Ex-Paratrooper on Brink of Brazil's Presidency
A far-right former paratrooper stormed to a first-round lead in Brazil's presidential elections on a wave of voter outrage over corruption and years of recession.
Jair Bolsonaro took 46.2 percent of valid ballots, falling just short of the majority needed to avoid a runoff, and will face the leftist Workers' Party candidate Fernando Haddad, who won 29.1 percent, in a second round on Oct. 28. Bolsonaro allies also performed strongly in Congress and state assemblies. 
With such a wide margin of victory, the presidential race is now his to lose. In every election since Brazil's return to democracy from military rule over three decades ago, the winner of the first ballot went on to capture the presidency in the runoff.
The next three weeks promise to be intense. For while Bolsonaro's lead appears almost insurmountable, the millions who oppose his candidacy – and its undertones of misogyny, homophobia and whitewashing of the dictatorship – will make a furious, last-ditch effort to halt his march to the presidency.
But they'll be fighting a powerful force – the sort of populism that fueled the victories of U.S. President Donald Trump, Mexico's Andres Manuel Lopez Obrador and Brexit in the U.K.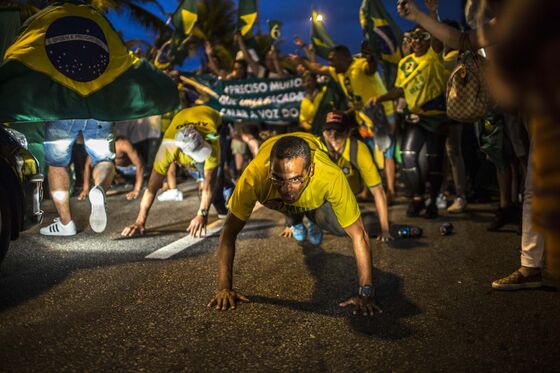 Saudi journalist disappearance | The mystery of what happened to Jamal Khashoggi since he disappeared after walking into the Saudi consulate in Istanbul seven days ago is deepening. Turkish officials say he was murdered in the building, while Crown Prince Mohammed bin Salman told Bloomberg he left the premises. The case has become part of the intensifying geopolitical rivalry between Sunni Muslim powers, Saudi Arabia and Turkey.
Press safety | A Bulgarian television journalist was brutally murdered, the third reporter to be killed in a year in the European Union as concerns grow for press safety. The body of Victoria Marinova, 30, was found Saturday. While police haven't yet linked the death to her work, she – like two journalists killed in Malta and Slovakia – had investigated graft.
Investigator, investigated | A clandestine bribery probe into Interpol's first Chinese president has put a new spotlight on the country's opaque legal system. The Chinese Ministry of Public Security disclosed today that former Interpol President Meng Hongwei is being investigated over bribery allegations, helping to dispel some mystery after he left France for China last month, reportedly sent his wife a picture of a knife and stopped communicating.
Pompeo's hard bargain | A tense exchange on a North Korean tarmac over the size of Michael Pompeo's entourage yesterday made clear the U.S. secretary of state would have to fight for even the smallest concessions in nuclear talks with Kim Jong Un, Nick Wadhams and Jihye Lee report. Pompeo announced few immediate breakthroughs, although he said Kim had agreed to allow nuclear inspectors at a dismantled testing site and that the two sides were "pretty close" to arranging a second summit with Trump. 
Cameroon chaos | With his country at risk of sliding into civil war, Cameroon President Paul Biya, 85, looks set to win another seven-year term to extend his 36-year rule after yesterday's election. The central African nation's two anglophone regions are in a state of anarchy, with rights groups saying at least 400 people have died this year amid a security clampdown and attacks by separatists fighting the alleged domination of the French language.
New faces, similar outcome |  Incremental change was the message voters in the tiny Baltic country of Latvia bordering Russia. Two moderate parties won a third of parliament's seats in Saturday's elections and a new populist movement just a sixth. While the center-right coalition lost its majority, a new five-party alliance is likely to form another pro-Western government after lengthy talks. That will once again lock out the Moscow-leaning Harmony party that habitually garners the most ballots.
French President Emmanuel Macron may announce a new cabinet as soon as today, as he prepares broad changes to jump start his presidency and draw a line under months of scandals and political setbacks.
Italian Deputy Prime Minister Luigi Di Maio makes debut visit to Berlin, shrugging off European Commission attacks on his government's fiscal plan and saying his anti-austerity view will grow stronger across the continent.
With the U.S. Congressional midterm elections less than a month away, Sahil Kapur takes a closer look at how the fight over Supreme Court nominee Brett Kavanaugh might affect the outcome. Click here for more on the Kavanaugh's confirmation.
And finally ... Here's one statistic Trump won't likely be tweeting about any time soon. The U.S. budget deficit expanded to an estimated $782 billion in his first full fiscal year as president, which would be the widest fiscal gap since 2012 when the country was still emerging from the Great Recession. While a combination of Republican tax cuts, increased federal spending and an aging population are adding to budget strains, Republicans say their tax changes will spur economic growth and lift federal revenue.