Evergrande Naysayers Should Tread Carefully
(Bloomberg Opinion) -- Real estate price growth is slowing and bond defaults are rising, but this isn't the time to short China's big property companies.
China Evergrande Group, the short sellers' favorite punt until they were burned by a rebound, is now back in their sights. The developer's shares are down 37 percent from an October 2017 peak, and its dollar bonds are just coming off record lows. But a groaning debt load doesn't tell the whole story.
Chinese residential sales grew 11 percent in September year-on-year, a marked slowdown from 17.8 percent in August and July's 24.8 percent. Add a tougher funding climate and a slowing economy, and you've got plenty of real estate companies, the heart of the nation's private sector, strapped for cash.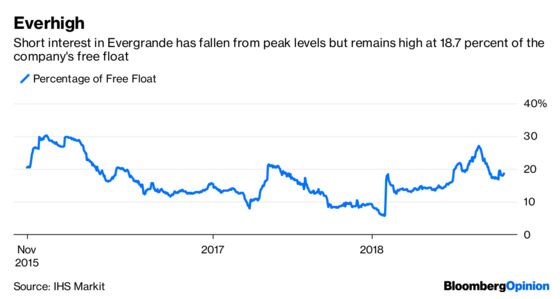 Wagers against Evergrande are down from a peak of 27 percent of the float, but they remain high at 18.8 percent. A "rescued" bond sale, with Chairman Hui Ka Yan putting $1 billion of his own money into a $1.8 billion issue (despite very high interest rates), did nothing to allay concern that the firm will struggle to pay debt, almost half of which is coming due in the next 12 to 18 months.
Evergrande's two-year wait for Chinese regulatory approval for a backdoor listing, and reports that it's offering a Hong Kong office tower as collateral to raise $1.5 billion, have convinced investors the company is in dire funding straits. Evergrande was singled out by the People's Bank of China, alongside HNA Group Co., Fosun International Ltd. and Tomorrow Holding Co., as a private entity that represents a potential systemic risk.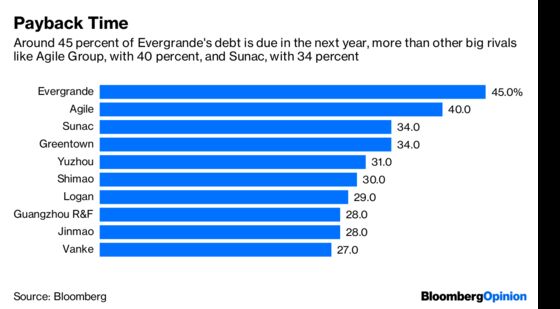 Don't forget, though, that the investor graveyard is littered with punters against Evergrande.
The firm has managed to reduce debt levels, and that $1.8 billion bond sale was aimed at repaying old obligations, not creating new ones. Following record earnings, Evergrande's net leverage fell to 127 percent at the end of June, from 184 percent at the end of 2017. Hui stuck to a pledge to bring the ratio down to 70 percent by the end of 2020.
Besides, Hui is sitting pretty with a 78 percent holding in the company. Evergrande's record first-half dividend swelled his cash pile. 
Last week's bond sale — in which all three tranches offered much higher rates than the average 8.1 percent Evergrande had to pay late last year — looks like a smart investment. Repeating the 2017 strategy of stock buybacks to burn shorts would have offered a dividend yield of just 6.6 percent. (Chinese Estates Holdings Ltd. Chairman Joseph Lau, an ally in the buybacks, purchased another 9.6 million shares at HK$28.81 each on Aug. 23, raising his holding to 9 percent of Evergrande.)
Perhaps the best news for Evergrande is that President Xi Jinping has indicated an end to painful price curbs. While nobody expected the government to allow such an important sector to collapse, last week's meeting of the Politburo showed a toned-down stance on real estate tightening, according to Nomura Holdings Inc. analysts. By comparison, a July session of the top decision-making body agreed on "resolutely preventing home prices from rising." Analysts at OCBC Investment Research say "conspicuously absent" references to lower prices suggest the government could reduce mortgage rates or relax price caps in some cities. 
That's not to say China's property bubble won't lose some air, with price growth continuing to slow. But demand remains solid, and it may be buttressed by easier credit after Beijing's less aggressive position. Even the PBOC view that Evergrande is too big to fail can be taken as a positive. Evergrande doomsayers need to wake up.
This column does not necessarily reflect the opinion of the editorial board or Bloomberg LP and its owners.
Nisha Gopalan is a Bloomberg Opinion columnist covering deals and banking. She previously worked for the Wall Street Journal and Dow Jones as an editor and a reporter.