Even Hollywood Knows a Happy Ending to China Talks Is No Guarantee
(Bloomberg) -- For evidence of how tricky it will be to conclude sweeping trade talks between the U.S. and China, look to Hollywood. With a deal potentially days away, demands by American film studios remain the subject of intense haggling.
The U.S. film industry currently receives about 25 percent of the ticket sales for movies that play in China and the Trump administration is pushing Beijing to increase that number to roughly 40 percent, in line with other countries, according to people briefed on the talks.
American industry is framing a concession in this area as a win that would help boost U.S. service exports at a time when President Donald Trump is trying to reduce the trade deficit with China, according to the people. Beijing has shown a willingness to make concessions on the issue, but it hasn't yet committed to a firm offer.
The issue of movie revenue-sharing underscores the hurdles the U.S. and China still face as they work toward announcing a final trade agreement by about May 10 to end a months-long trade conflict between the world's two-largest economies. Trump and Chinese President Xi Jinping will decide after negotiations next week whether they'll meet to finish the trade deal, White House spokeswoman Sarah Sanders said Thursday, adding that the U.S. sees such a meeting as likely.
"At the end of the day you're going to have to see the two leaders sit down and finalize some of the details of any major trade deal like this," Sanders said. "We continue to see progress."
Concluding a deal will hinge on the two sides resolving the stickiest issues in their trade dispute. Some of the biggest issues remaining include an enforcement mechanism to police the agreement and a decision over whether tariffs will be removed or stay in place, according to the people, who spoke on the condition of anonymity.
The nations have been engaged in intense negotiations since a Dec. 1 tariff truce between Trump and Xi, after imposing duties on $360 billion worth of each other's goods last year.
The decision on what tariffs will be lifted and which stay in place and for how long might be punted to the two leaders for a final decision, the people said. U.S. Trade Representative Robert Lighthizer and Chinese Vice Premier Liu He have been discussing tariff options in recent months but they've not been able to agree on a solution, they said.
Lighthizer and Treasury Secretary Steven Mnuchin on Wednesday wrapped up the latest round of talks in Beijing and Liu is due to arrive in Washington on May 8 for more discussions. Mnuchin called the Beijing meetings "productive" in a tweet, but neither side gave an update on the status of talks.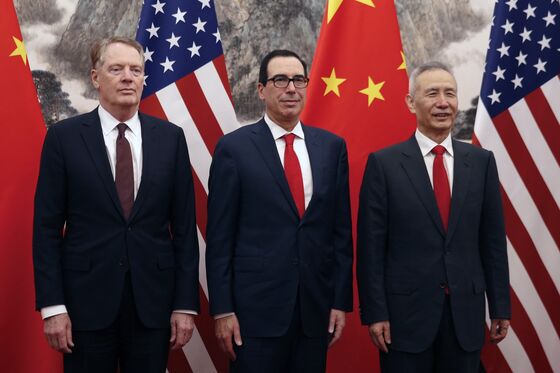 While both sides have indicated the talks were progressing well, the White House's tone shifted recently, ramping up pressure on Beijing. U.S. officials this week warned that they're willing to walk away if a pact isn't reached after Liu's visit to Washington next week.
"We hope within the next two rounds in China and in D.C. to be at the point where we can either recommend to the the president we have a deal or make a recommendation that we don't," Mnuchin said in interview Monday on the Fox Business Network program "Mornings with Maria."
Officials from USTR have been calling U.S. business representatives in the past weeks to brief them on progress that's being made in their sectors, and to ask that they publicly support the final agreement, according to three people representing industry groups, who declined to be identified.
If the countries fail to reach an agreement next week, the U.S. has range of options at its disposal to crank up pressure on Beijing, including the imposition of new tariffs, said people familiar with the matter. They added that a deal is more likely to be reached than not.
But the movie industry example demonstrates just how hard it can be to tie up all the loose ends. In addition to revenue-sharing, the USTR is discussing other issues that have been raised by the Motion Picture Association of America, which has been in regular conversation with its members that are the major film studios, and now include Netflix Inc.
One is to increase the number of distributors in China, the people said. Only two Chinese government-controlled distributors are permitted to distribute foreign films in China. Studios also cannot select release dates or control the marketing of their movies. The Chinese box office reached $9 billion in 2018, second only to the U.S. market which reaped $11.9 billion, according to the MPAA.