Charles Evans Sees Fed Rates on Hold Into Fall of 2020
(Bloomberg) -- Go inside the global economy with Stephanie Flanders in her new podcast, Stephanomics. Subscribe via Pocket Cast or iTunes.
The Federal Reserve may need to cut interest rates if U.S. inflation falls, said Chicago Fed President Charles Evans, who currently sees rates on hold until the fall of 2020.
"If core inflation were to move down to, let's just say, 1.5 percent," that would indicate that monetary policy "is actually restrictive in holding back inflation, and so that would naturally call for a lower funds rate," Evans told reporters Monday after a speech in New York. "I don't expect that to be the case, but hypothetically speaking, that would be an argument."
While the scenario was hypothetical, price pressures have eased. In July 2018, a closely-tracked measure of underlying inflation rose above the central bank's 2 percent target for the first time in six years, but it's since slipped to 1.8 percent, and analysts expect it to go lower still.
Tame inflation even as unemployment remains near the lowest level in almost five decades helps explain why Fed officials have signaled rates are on hold this year.
"I can see the funds rate being flat and unchanged into the fall of 2020," Evans said earlier Monday, during a television interview on CNBC. "For me, that's to help support the inflation outlook and make sure that it's sustainable at two or a little bit above."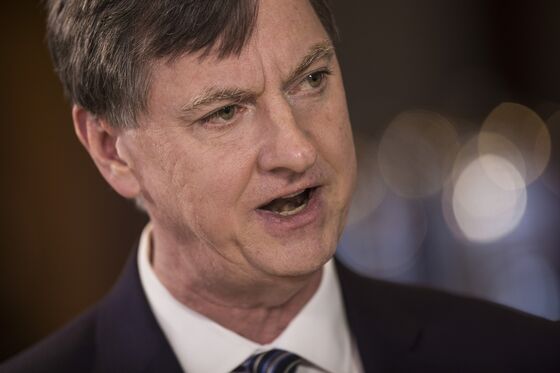 Central bankers are looking ahead to a June conference where they will review alternative strategies for bolstering the public's inflation expectations. Many see sliding expectations as a key factor weighing on the inflation rate.
"This review promises to be very interesting and important. We are going to learn a lot," Evans said in his speech.
"I think the Fed must be willing to embrace inflation modestly above 2 percent 50 percent of the time," he said. "Indeed, I would communicate comfort with core inflation rates of 2.5 percent, as long as there is no obvious upward momentum and the path back toward 2 percent can be well managed."
Evans, who votes on rate decisions this year as a member of the central bank's policy-setting Federal Open Market Committee, told the audience while answering questions after his speech that he currently believes the FOMC should set interest rates in a way that would generate an inflation rate above the 2 percent target.
Not all of his colleagues are on board yet, according to projections they published after their most recent meeting on March 20, which showed many still believe aiming for 2 percent or less over the next few years would be a better plan.
But intentionally pursuing above-target inflation is, in effect, what many of the alternative strategies under consideration as part of the upcoming review would call for. The idea is that higher inflation expectations over time would allow the Fed to raise rates more than they would otherwise be able to, giving them more room to cut rates in a downturn.
An analysis of FOMC meeting transcripts by San Francisco Fed economists, published Monday to the bank's website, underscored the extent to which the current debate goes back many years. It found that before the financial crisis, FOMC participants preferred a 1.5 percent inflation rate. After the crisis, that number shifted to 2 percent.