Evacuation of Canadians from Virus Zone Is 'Underway' in China
(Bloomberg) -- The Canadian government's evacuation of its nationals from the Chinese city at the epicenter of a deadly viral outbreak has begun and is expected to be fully completed by early next week.
Foreign Minister Francois-Philippe Champagne said Thursday a chartered plane is expected to depart Wuhan imminently with 194 passengers once the screening and boarding process is done. A smaller group of Canadians is also expected to be on board a separate American-chartered plane.
In total, about two-thirds of the 347 Canadians seeking evacuation from the region will leave Thursday. A third plane is expected to take the remaining Canadians on Feb. 10, he said.
"Our evacuation is therefore underway," Champagne told reporters in Ottawa.
The evacuation of Canadian citizens follows in the footsteps of other countries who in the past 10 days have kicked off recovery plans to rescue citizens from the coronavirus-stricken region. Countries including the U.S. and Australia have even issued travel bans on foreign nationals who had recently visited China, or arrived directly from the mainland in order to quell the spread of the epidemic. Confirmed cases for coronavirus have climbed to more than 28,285 and there have been 565 deaths worldwide.
Once the Canadians passengers arrive, they will be subject to a 14-day quarantine period at a military air force base in Trenton, Ontario.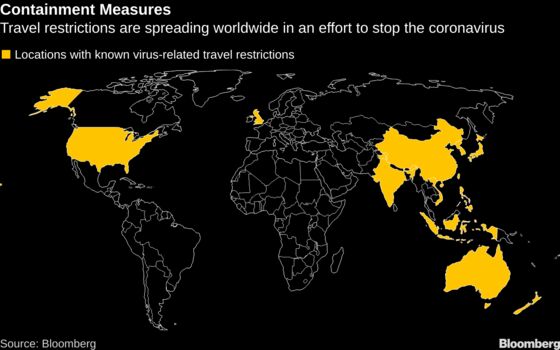 Terminal subscribers: Read a TOPLive Q&A on risks to the economy