Eurozone Economy Enters Third Quarter With No Pickup in Sight
(Bloomberg) -- The euro-area economy dispelled hopes of stronger momentum in July, with a slowdown in activity signaling that growth going forward might be sluggish at best.
A Purchasing Managers' Index for manufacturing and services dropped to 54.3, ceding most of the ground it gained in June, IHS Markit said.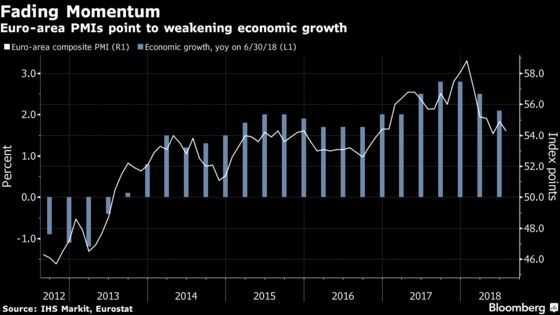 After the gauge declined in five out of seven months this year, that renders the outlook "a straight choice between the upturn being sustained at its current subdued pace or rising headwinds reining in growth further," according to Rob Dobson, an economist at the London-based company.
While the composite reading is in line with a flash estimate, an index for services was revised lower to 54.2 from 54.4. Manufacturing has seen its most subdued spell in more than one- and-a-half years this summer, with July's print only slightly stronger than the previous month.
Weakening order growth has been the main factor weighing down output, according to IHS Markit. Companies are also less optimistic about future business amid ongoing threats of trade wars.
"Improved domestic demand may offset some of this in the near-term, but will need to strengthen further if it is to maintain that role," Dobson said.
A slight pickup in momentum in Germany, if sustained, should help to offset slower growth in France, Italy and Spain, he said.
The three countries have reported second-quarter growth data that missed economists' estimates. A first reading for Germany, the region's largest economy, is due on Aug. 14.