European Shares Open Steady After China Pledges Stock Support
(Bloomberg) -- European shares opened steady, after Thursday's losses, after China's officials pledged to support the country's stocks and the Italian budget saga took a further step.
The Stoxx 600 Index was little changed, after a 0.5 percent drop on Thursday. The autos shares extended losses and were the largest decliners.
On Thursday several European Union leaders attacked the Italian populist government in Rome and the European Commission issued a warning on the budget. The commission dispatched a letter to Rome saying its spending plans were excessive and gave until Monday to provide an explanation for the "obvious significant deviation" to the rules. The Italian FTSE MIB fell as much as 1.9 percent yesterday, the largest drop among the large European markets.
"This is not ending anytime soon and the main issue is how far can the Italian spread move -- it looks like the 400 basis points is the key," said Ricardo Gil, head of asset allocation at Trea Asset Management. "The question is at what level will the Italian banks see the market closing for their funding."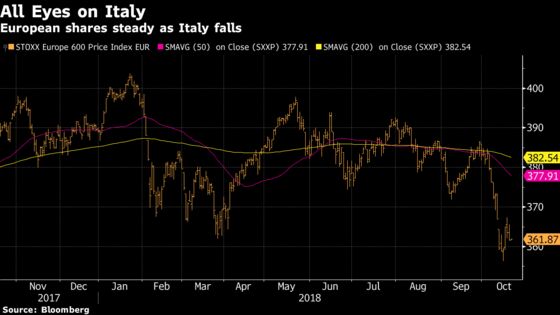 The heads of China's central bank, banking and insurance regulator and securities regulator all issued statements voicing support for the battered equity market. Chinese economic growth slowed more than expected in the third quarter, according to data released Friday.