European Commission Predicts German Economy Dodged Recession
(Bloomberg) -- A breakdown of the European Commission's updated growth forecasts shows that the German economy probably grew 0.2 percent in the final quarter of 2018, dodging a recession.
The country's statistics office won't release its first estimate for the fourth quarter until Feb. 14, but has said that it expected "slight" growth.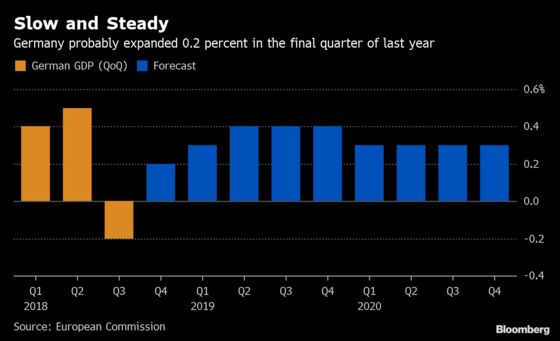 The Commission predicts economic growth of 1.1 percent in 2019 and 1.7 percent in 2020. While at the surface that suggests a pickup in momentum, the acceleration will largely be driven by calendar effects. Quarterly dynamics will remain "relatively subdued due to further moderation of demand and tightening of labor supply," according to the report.
Separately, Germany's DIHK business association lowered its outlook for Europe's largest economy. It cut its 2019 growth projection to 0.9 percent, after forecasting 1.7 percent as recently as last autumn.