Europe's Return to Growth Comes With a Warning About Jobs
(Bloomberg) -- Europe's economy is finally showing signs of growing again after months of an unprecedented slump caused by the coronavirus pandemic.
Private-sector activity in the euro area rose to the highest in more than two years in July, with both services and manufacturing showing expansion. In the U.K., retailers saw sales volumes rise in June close to pre-lockdown levels, even as social distancing measures prevented a complete return to normal.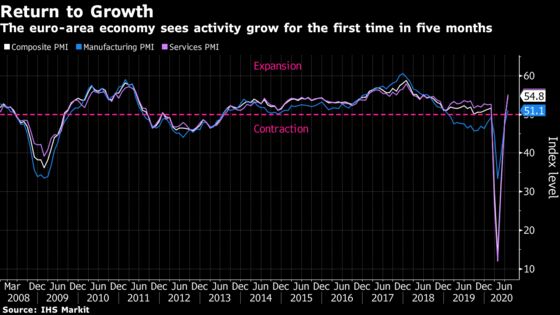 While the headline readings show the region's economy is rebounding from its devastating contraction in the second quarter, warning signs continue to abound. A number of high-profile firms across the continent, including airlines, fashion group Burberry, and French auto-parts maker Valeo, have recently added to to the thousands of job cuts that have already been announced.
"Even though output is recovering, businesses are still reducing jobs at a considerable pace," said Bert Colijn, senior economist at ING Bank, who expects unemployment to continue to rise for quite some time. "A V-shaped recovery seems quite unrealistic, despite the encouraging numbers."
The risk is that with people losing work and income, demand in the region could remain weak relative to capacity. Euro-area firms cut jobs for a fifth straight month in July, according to purchasing managers' indices published Friday. The decline in payrolls was particularly sharp in manufacturing, close to the worst since 2009.
The U.K. is likely to face a similar predicament, even after retail sales returned to a level just 0.6% below that of February, and a reading excluding fuel exceeded its pre-virus position.
A separate report on Friday showed consumer confidence remained subdued this month. Savings have gone up and households are optimistic about their financial future, but their willingness to make large purchases is still weak, GfK said.
Friday's data cap an eventful week in Europe, after government leaders agreed on an unprecedented rescue deal that aims to provide 750 billion-euros ($870 billion) worth of grants and loans to European Union member states over the next three years. The package is aimed at supporting a recovery from the worst slump in the region's postwar history, and particularly aids those economies which were hit hardest.
Figures next week are forecast to show the euro-area economy shrank about 12% in the three months through June. While that will reflect the depth of the downturn, the recovery is unlikely to be smooth.
European Central Bank President Christine Lagarde has warned that the pickup is still in the early stages, and looks "uneven" across both countries and sectors. A key risk is the labor market, with persistently soft demand likely to push up unemployment.
"While the survey's output measures hint at an initial V-shaped recovery, other indicators such as backlogs of work and employment warn of downside risks to the outlook,' said Chris Williamson, chief business economist at IHS Markit, which publishes the PMIs.