Europe's Iran Sanctions Vow Takes a Hit as Ministers Desert Bali
(Bloomberg) -- The European Union's determination to uphold the Iran nuclear agreement and circumvent U.S. sanctions took another hit as several of the bloc's finance ministers missed a key opportunity to quiz Treasury Secretary Steven Mnuchin on the scope of the U.S. stranglehold.
Several European countries were planning to seek clarity about the U.S. plans to choke Iran's financial system on the sidelines of the annual meetings of the International Monetary Fund and the World Bank in Bali. But finance chiefs from France, Spain, the Netherlands, Belgium, Ireland and Portugal were held in their countries by domestic politics.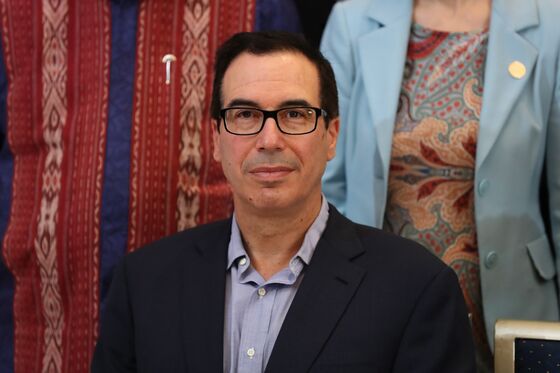 Instead it's left to EU Commissioner Valdis Dombrovskis to make Europe's case. Dombrovskis intends to raise the matter in a meeting with Mnuchin in Bali, according to a person familiar with his plans. German Finance Minister Olaf Scholz won't have a one-on-one meeting with his American counterpart.
Attempts led by France and Germany to continue doing business with Iran -- a key component of Europe's bid to stand by the landmark 2015 nuclear agreement -- are running aground on U.S. threats to blacklist companies and banks that defy its sanctions. With potentially crippling U.S. sanctions on Iranian oil due to come into force in early November, the EU is seeking to set up a special vehicle to keep the economic benefits promised in the deal flowing to Iran, but the details remain vague.
France had wanted to seek clarification whether sanctions would also affect the European payment settlement system Swift and commercial banks in Iran, according to officials at the French Treasury. But French Finance Minister Bruno Le Maire had to forgo his trip to Indonesia amid a reshuffle of President Emmanuel Macron's government team.
Domestic matters also caused Portuguese Finance Minister Mario Centeno, who chairs meetings of his euro-area counterparts, Dutch Finance Minister Wopke Hoekstra and Spanish Economy Minister Nadia Calviño to stay at home.
France, Germany and the U.K. are working with EU officials on finance and trading tools as a signal to Iran that they want to keep trade channels open even after U.S. President Donald Trump's decision to withdraw from the deal. Russia and China have also signaled their determination to stick with the accord.
The French government has long pushed the need for an alternative financing mechanism that would strengthen the euro as an international reserve currency and make global trade less dependent on the U.S. dollar.