Europe's Highest Interest Rates Face 'Ambitious' Plan for Cuts
(Bloomberg) -- Explore what's moving the global economy in the new season of the Stephanomics podcast. Subscribe via Apple Podcast, Spotify or Pocket Cast.
Ukraine is stepping up plans to slash Europe's highest benchmark borrowing costs.
Inflation has plummeted to the lowest in almost six years after the hryvnia outshone all other currencies against the dollar in 2019. The more benign backdrop will be reflected in this month's quarterly projections for interest rates, according to the central bank.
"This forecast will be more ambitious than our previous outlook," Deputy Governor Oleg Churiy said this week in a phone interview. "But I'm not ready to tell you by how much."
The world's major central banks are also easing monetary policy to perk up stuttering economic expansion. Growth in eastern Europe, however, has held up and inflation is problematic in some parts.
Right now, Ukraine isn't one of them. Consumer-price growth eased to an annual 4.1% last month -- even after the central bank lowered its key policy rate by 200 basis points to 13.5%.
Its previous outlook, from October, saw the benchmark being reduced to 9% by end-2020. But steeper cuts would be timely with analysts forecasting a slight dip in the economy this year. The central bank meets Jan. 30 on interest rates.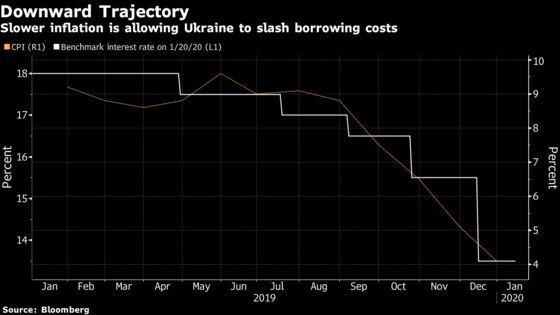 Rate-setters will be faced by a national currency that's not started 2020 as it ended the previous year, losing 2.2% against the dollar in what Churiy blamed on seasonality.
"A significant inflow of foreign investment, not only into government bonds, but also into the private sector, as well as export growth may keep the FX market situation favorable for longer," he said.
Churiy said he expects sustained demand from abroad for hryvnia-denominated debt as President Volodymyr Zelenskiy convinces investors of his country's economic prospects. He also sees strong appetite for long-term government bonds to be sold next week.
Relaxing capital controls -- which date back to the aftermath of Ukraine's last revolution in 2014 -- would improve the investment climate, and there may be some progress soon, according to Churiy.
"Should macro-economic stability persist, we may also take several important steps on FX liberalization in the coming months," Churiy said.