Europe's Factory Backlog Hits Record on Global Supply Squeeze
European factories saw unfilled orders rise to an unprecedented level in August as companies struggled to meet demand amid widespread bottlenecks in the global supply chain.
There were "clear signs of strong capacity constraints," according to an IHS Markit survey of purchasing managers, which showed the shortfall of manufacturing production relative to orders surpassing a 24-year record seen in July.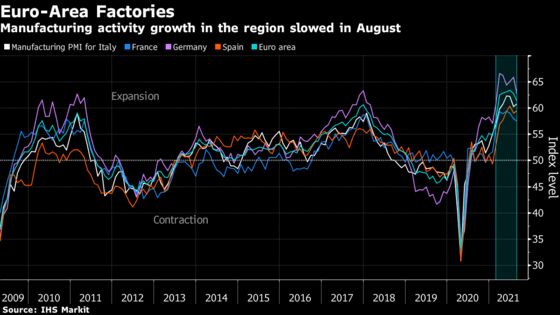 While the euro-area economy is rebounding from coronavirus lockdowns, shortages of parts and raw materials and a lack of shipping capacity are proving more stubborn than initially expected, threatening to delay the recovery.
The issue also risks fueling inflation, which is already running at a 10-year high of 3% due to energy and a range of special factors. The survey found some of the cost pressures facing manufacturers and their customers easing slightly, while remaining at historically high levels.
"Euro-zone manufacturers reported another month of buoyant production in August," said Chris Williamson, chief business economist at IHS Markit. "The overriding issue was again a lack of components, however, with suppliers either unable to produce enough parts or are facing a lack of shipping capacity to meet logistics demand."
There were also signs that southern-European countries, which were initially hit much harder by the pandemic than their northern neighbors, are catching up. While the overall indicator of euro-area manufacturing activity slipped to 61.4 from 62.8 a month earlier, it rose in Italy, Spain and Greece.