Europe's Economic Recovery Loses Steam as Supply Shortages Bite
The economic recovery in Europe's two largest economies lost steam in September, held back by supply-chain problems and a slowdown in the services sector following an initial rebound from coronavirus restrictions.
Shortages of parts and raw materials proved a major obstacle in Germany and France, and activity in both countries eased more than forecast in IHS Markit's monthly survey of purchasing managers. German services also slowed considerably after a sharp bounce back over the summer.
The combined forces of the delta variant of the coronavirus, supply squeezes and a lack of shipping capacity are creating price spikes in economies around the world and threatening the global rebound.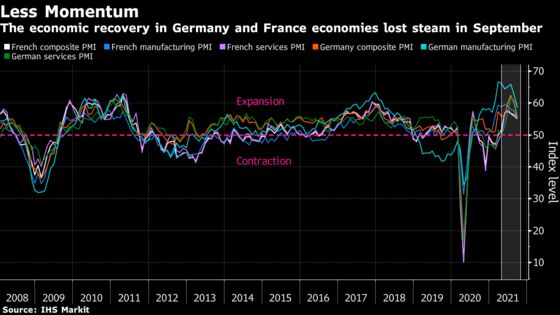 The overall measure of private-sector activity in Europe's largest economy -- the composite PMI -- fell to 55.3 in September, while economists had expected a reading of 59.2. In France, where services were more stable, the gauge slipped to 55.1, compared to an estimate of 55.7.
While historically high inflationary pressures cooled slightly in Germany, companies in France reported rising costs.
"Overall, slowing demand growth, rising prices and considerable supply-side issues are -- to say the least -- far from the ideal conditions as we head into what seems to be another challenging winter period," said Joe Hayes, senior economist at IHS Markit.