Europe May See Chinese Investment Revival, Baker McKenzie Says
Chinese investments in Europe and North America may revive in 2020 after dropping to the weakest level in almost a decade last year, according to law firm Baker McKenzie.
Improved liquidity conditions, clearer investment screening rules and greater efforts by China to provide reciprocal access "could propel Chinese outbound investment to bottom out and return to modest growth in 2020," said Tracy Wut, Baker McKenzie's head of M&A for Hong Kong and China.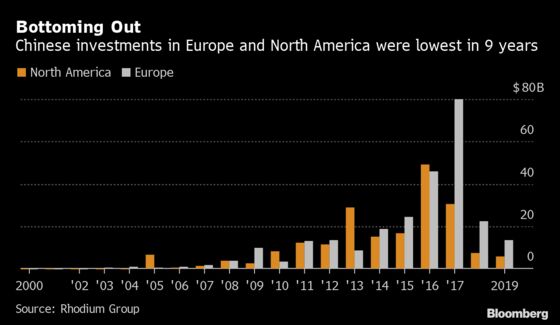 2019 saw the lowest value of Chinese deals flowing into both regions in nine years, according to a report by the law firm and Rhodium Group.
In Europe, they were down 80% from a record in 2017. While the value of investments there was more than twice that in North America, it's been weighed down by strengthened regulatory reviews, restrictions from Beijing, slowing growth, and lower liquidity, among other factors.
Scrutiny of of foreign takeovers has intensified in both Europe and the U.S. amid growing concerns over China's technology ambitions.