Europe Is Doing Deals in Asia as Trump's War on Trade Takes a Toll
(Bloomberg) -- As President Donald Trump throws global relationships into turmoil in pushing his "America First" agenda, Indonesia has seen an opening to increase its European trade ties.
The EU has recently pulled off trade agreements with Vietnam, Japan, Singapore, Canada, across Africa and even Cuba and is actively negotiating deals with Mexico, Australia, New Zealand, China and the Philippines. A deal with Indonesia would boost two-way trade by $4 billion a year -- there was $30 billion of trade between the two regions last year -- and strengthen European economic ties to an area rapidly growing in affluence and economic power.
"We want to continue with an open trade agenda despite whatever happens between the U.S. and China," European Union Ambassador to Indonesia Vincent Guerend said in an interview in Jakarta. "We want to have a larger market share in this big economy which is due to be even bigger in 10, 15, 20 years' time," he said.
The Indonesia-Europe economic partnership agreement will boost Indonesian exports of textiles and fisheries products and open up Indonesia for European automakers and machinery exporters. It's a pact that also looms as a bulwark against rising protectionism and a much needed source of investment and economic growth.
The threat of a full-blown trade war between the U.S. and China has already seen the International Monetary Fund cut its outlook for the global economy. Worried about U.S. policy under Donald Trump and what that means for the growth landscape, Indonesia is embracing the art of the trade deal.
That the EU has already struck agreements with neighboring countries has also stoked a sense of urgency for Indonesia. "We don't want to be left far behind," said Iman Pambagyo, the director general for international trade negotiation at Indonesia's Trade Ministry.
"Today's most preferred approach is bilateral," he said.
With the Indonesian economy expanding at about 5 percent a year but well short of the 7 percent promised by President Joko Widodo, free-trade deals are an important tonic for growth and jobs. A deal with the EU would help deliver a boost in the investment dollars the country craves in order to fund new roads, railways and ports at a time when capital is drying up.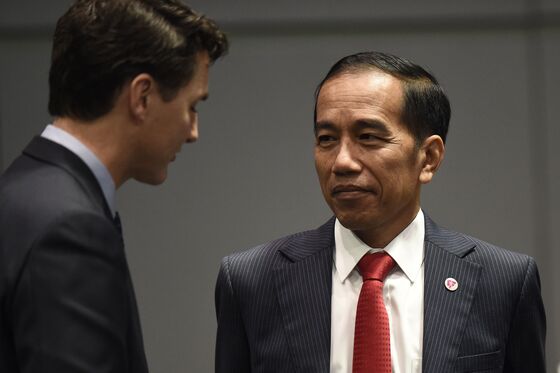 A deal between the EU and Indonesia would see more European cars exported to Indonesia. It could also generate investment in the local auto industry that would even see Indonesia assembling and exporting European vehicles to the region, according to European officials.
It's also set to give European companies access to procurement deals and infrastructure projects being rolled out under the biggest nation-building program in Indonesia's history. And it will help Indonesia overcome a gap in two-way trade that has seen the country punching below its weight compared to other nations in the region, according to Guerend.
While Indonesia is the largest economy in Southeast Asia, it was ranked fifth last year in trade with the EU. Indonesia is also being outpaced by other countries in the region in terms of attracting foreign direct investment from Europe. The push for an agreement with the EU comes as figures show Indonesia posted a 20 percent drop in realized foreign direct investment in the third quarter from a year earlier.
"European investors are by far number one in Asean," Guerend said, and contribute more than the U.S. and Japan combined. "But only 10 percent goes to Indonesia," he said.
The pact covers services and investment as well as competition, sustainable development, labor laws and the environment. If a deal is done, it would see tariffs on a minimum of 95 percent of goods and services eventually cut to zero, both in terms of lines and volume of trade. The "new generation agreement" would rival the Trans-Pacific Partnership in terms of ambition, according to Guerend.
The Indonesian side points to "many new issues" that have to be resolved before a deal is finalized, as well as a presidential race now underway. The election will be held in April. "While I will keep on pushing the negotiations forward, perhaps some agencies would rather take a wait-and-see approach," said Pambagyo.
"I will continue to push as much as I can," he said.