Europe Calls for Green Global Trade, Investment Strategies
(Bloomberg) -- Europe vowed to push nations around the world to move climate action up their political and economic agendas as it forges ahead with an ambitious green overhaul to become the world's first continent to zero-out greenhouse gases.
As a green political momentum is building globally, the 27-nation European Union called on other countries to develop policies and targets that would send a clear signal on cutting pollution to businesses, citizens and policy makers. The bloc, which plans to reduce emissions at least 55% by 2030 from 1990 levels, wants to lead the global fight against climate change.
"The EU urges all countries to also align their trade promotion, finance, aid and foreign investment strategies with their domestic climate pledges and Paris Agreement commitments," foreign affairs ministers from the bloc's national governments said in a document on Monday.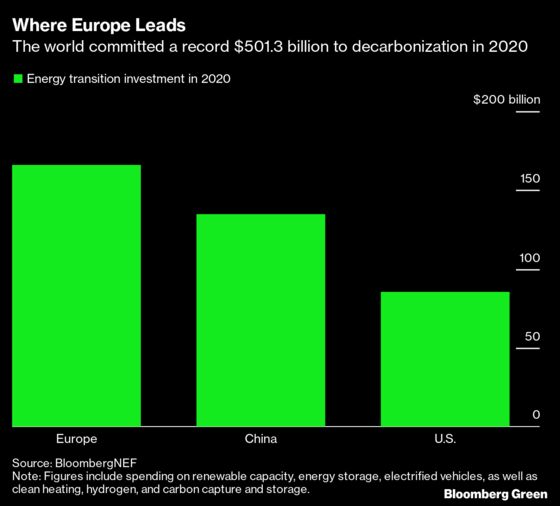 The reinforcement of Europe's strategy to embed climate and green energy in its foreign and security policy comes before a key United Nations meeting in Glasgow, Scotland, in November. It will take stock of global emissions-reduction pledges announced so far and provide an opportunity for governments worldwide to strengthen their commitments under the landmark 2015 Paris climate accord.
​President Joe Biden, who is bringing the U.S. back into the Paris Agreement, is planning to host world leaders at a climate summit on Earth Day on April 22. His initiative follows a flurry of climate announcements from other major emitters in the past few months, with China, Japan and South Korea all committing to achieving carbon-neutral economies.
The EU pledged on Monday to use its diplomatic muscle to accelerate the global energy transition away from fossil fuels. For the bloc, climate change has grown into "a top table geopolitical issue" in all its relationships, according to Nick Mabey, chief executive officer of the E3G environmental think-tank.
"Through its new climate targets and world leading Green Recovery package the EU has set the benchmark for climate action; it now needs to build the diplomatic strategy and machinery to leverage this into a global clean-energy transformation," he said.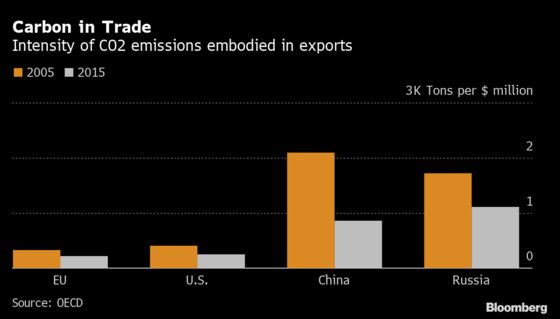 Alarmed that the bloc's ever-stricter environmental regulations risk forcing polluting activities to relocate elsewhere in the world, the EU's executive arm is drafting a law that would start penalizing imports of certain goods from countries with weak emissions rules.
The pledges are the latest in a series of policy initiatives comprising the so-called European Green Deal, a comprehensive package of measures that will push sectors from transport to energy generation and agriculture toward low and eventually zero greenhouse-gas emissions. Officials in Brussels hope the sweeping overhauls will also help the bloc assert its "strategic autonomy," and reduce the dollar's dominance in international finance.
The European Commission is already on course to become the world's largest issuer of green and social debt. Brussels expects the issuance will turn the EU into a "global 'green finance' hub, bolstering the euro as the default currency for the denomination of sustainable financial products," according to a policy document unveiled last week.
Adding to signs that weaning off dollar dependence has turned into a central policy objective, ministers on Monday pledged to promote "the use of the euro in energy trading."