One Currency Will Reap the Benefits of the U.S.-China Trade Spat, Deutsche Bank Says
(Bloomberg) -- The global trade war isn't expected to throw up too many winners among currencies, but the euro could be one.
Europe's common currency is set to climb back toward $1.20, a level not seen since May, as the U.S. substitutes Chinese imports with those from the euro bloc, according to Deutsche Bank AG. The Canadian dollar and Mexican peso will also be major beneficiaries after the world's largest economy imposed higher duties on $200 billion of Chinese goods Monday.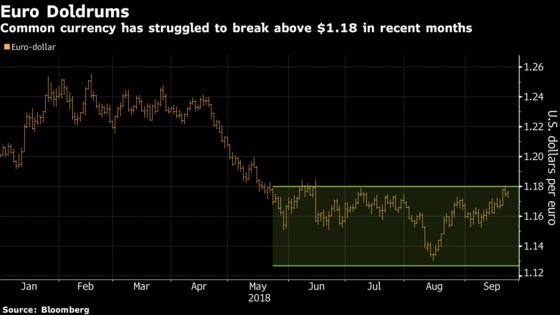 "The U.S.-led trade war on China may end up benefiting the euro disproportionately by diverting trade toward Europe," George Saravelos, co-head of foreign-exchange research at Deutsche Bank, wrote in a note to clients. "It ultimately reflects a more favorable view of the European versus China cycle."
Should the euro appreciate, it would mark a change in fortune for a currency that has been hurt in recent months by the cautious pace of European Central Bank policy normalization and financial outflows from the region's equity markets, according to Saravelos. The specter of global trade tensions also hangs over the bloc -- negotiations with the U.S. are still ongoing -- but Deutsche Bank's base case is for a deal to be reached, he said.
The euro was at $1.1770 as of 10:19 a.m. in London, having dropped to $1.1301 in August, a one-year low.
At the same time, there are signs that ECB policy makers are becoming increasingly hawkish with Governing Council member Ewald Nowotny saying that officials should "ask if it's really sensible" to lock in record-low interest rates for so long. Money markets are currently pricing the first 10 basis-point increase in the deposit rate since 2011 for October 2019.
"There is material scope for repricing as the inflation outlook continues to improve," Saravelos wrote. "The pieces are falling into place for a recovery in EUR/USD."