Euro-Area Weakness to Unite East Europe With Rates Seen on Hold
(Bloomberg) -- Central banks in eastern Europe will probably keep borrowing costs unchanged this week as the euro area slowdown dents arguments for hiking even among the strongest advocates of monetary tightening.
With the European Central Bank facing dwindling chances of being able to raise rates this year, policy makers in Poland, the Czech Republic, Romania and Serbia are taking a wait-and-see approach to asses the magnitude of disinflationary risks coming from their biggest export market. That's rare unity in a region that saw diverging monetary paths last year, ranging from an unprecedented rate hike run to cuts and no changes at all.
One-week reference rate: 1.5 percent
Inflation rate: 1.1 percent (December)
Poland, which has kept its benchmark rate at a record-low since 2015, will extend the pause after inflation slowed to a two-year low in December. Price growth has undershot the 2.5 percent target for six years, even as the EU's largest eastern economy expanded 5.1 percent in 2018. Several members of the Monetary Policy Council, including Governor Adam Glapinski, said consumer prices will increase at a much slower pace than the 3 percent projection in the central bank's inflation forecast for this year.
"The MPC is now talking about holding rates steady until 2021 and given the overall environment, both global and local factors, we concur," Mbank economists said in a report.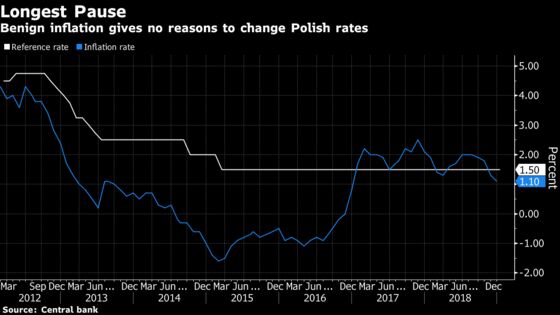 Two-week repurchase rate: 1.75 percent
Inflation rate: 2 percent (December)
The Czech central bank, which led Europe's monetary tightening with five rate increases last year, may hold borrowing costs unchanged for a second meeting to allow for more time to assess inflation-undercutting effects from abroad. The bank expects to raise rates further this year because of domestic price pressures, but several policy makers have delivered a cautious message about the euro-area slowdown and uncertainties related to Brexit, which have made a February rate increase less likely.
"Thursday's meeting will be very tense, and the result will be a close call," said Jan Bures, chief economist at the brokerage Patria Finance. "We're slightly leaning toward the view that the central bank will, out of cautiousness, leave rates unchanged again."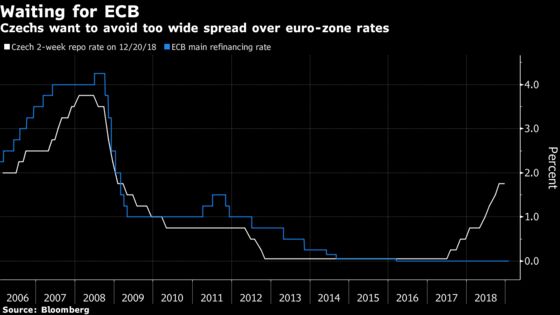 Benchmark rate: 2.5 percent
Inflation rate: 3.27 percent (December)
The Romanian central bank, which raised its benchmark rate three times last year, will probably refrain from changing borrowing costs for a sixth meeting after December inflation slowed to the lowest rate since 2017. In addition to easing price growth, a surprise government plan to introduce a bank tax linked to interbank rates is constraining monetary policy and limiting the central bank's maneuvering room, ING Bank Romania's chief economist Ciprian Dascalu said.
"Fortunately, there seem to be no imminent inflationary pressures which would require monetary tightening,'' Dascalu said.
One-week repurchase rate: 3 percent
Inflation rate: 2 percent (December)
Serbia, which last cut borrowing costs in April 2018, will probably hold its benchmark interest rate at a record low for a tenth meeting as inflation hovers below the 3 percent mid-point of the target band. Policy makers are taking their time to weigh inflation risks stemming from government spending plans, which can push price growth toward the mid-point goal this year, and the ECB's response to the weakness in the currency zone.