What Slowdown? Eastern EU Growth Defies Euro Zone Weakness
(Bloomberg) -- Economic growth in the European Union's eastern wing exceeded expectations in the third quarter as domestic consumption offset weaker demand in the region's main export market, the euro area.
The results in Romania, Slovakia, Hungary and Poland beat economist forecasts for a slowdown indicated by weaker monthly data such as industrial production and retail sales. The Czech Republic showed a surprising slowdown, while Bulgarian growth eased more than expected.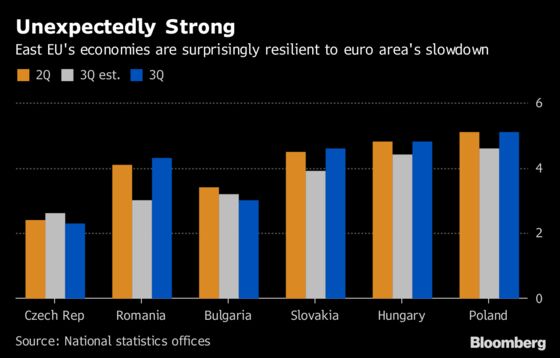 Annual growth in all six countries exceeded that of the euro area, which slowed to 1.7% from revised 2.2% in the previous quarter.
Domestic demand, propelled by tight labor markets and a construction boom, has become the key driver of growth.
Upbeat GDP data didn't correspond with monthly activity figures, which showed slowing retail spending and industrial production in most of the region.
Surprisingly strong expansion may complicate policy deliberations for the Romanian central bank, which held rates steady this month as is waiting for inflation to ease back to its target.
Tourism, construction and agriculture were the main driver of Hungarian growth, which may significantly exceed the government's 4 percent full-year target, Finance Minister Mihaly Varga said.
Weaker export demand from the euro area was the main reason for the Czech slowdown, which also trailed the central bank's projections.
Forecast-beating expansion failed to boost investor appetite for east-European currencies, with most local units holding little changed on the day.
The Czech koruna was the region's biggest loser, weakening 0.2 percent and breaching the key level of 26 per euro as the surprisingly weak economic growth bolstered arguments for pausing with interest-rate increases in December.
"Very strong numbers" across central Europe, which don't appear consistent with the PMIs - except for Hungary -- and the weak data from Germany and the euro area, said Tatha Ghose, an economist at Commerzbank. "But I would say this was the last strong quarter for the region. Most leading indicators are softening globally."
The Czech result "confirms our assumption that the economy has hit the limit of its growth. There is lack of employees while weakening foreign demand also begins to constrain expansion of domestic companies," said Petr Dufek, an analyst of Ceskoslovenska Obchodni Banka in Prague.
Stronger than expected domestic demand in Hungary implies "monetary policy should change its current extremely loose stance in the near future in order to avoid overheating of the economy," Erste Bank's Orsolya Nyeste said in a note.
"Irrespective of the reasons for the pick-up in growth, it will be hard for central banks to ignore the sheer strength of these data. Policy makers in Hungary and Poland have become more hawkish at recent meetings and the Q3 figures reinforce our view that tightening cycles will begin in the coming quarters," Capital Economics' Liam Carson said.
EU's Eastern Wing Grows More Resilient to Global Trade Risks
Hungary Growth May Significantly Exceed 4% Goal for 2018: Varga