Euro-Area Slowdown Risks Keep Brake on Czech Rate-Hike Binge
(Bloomberg) -- The Czech central bank held borrowing costs unchanged for a second meeting, holding off on interest-rate hikes until it has a better idea of where the global economy is headed.
With the likelihood of rate increases by the European Central Bank diminishing, the Czech National Bank is trying to assess disinflationary risks from the euro area, the country's biggest export market. After a record five hikes last year, Governor Jiri Rusnok still sees room for more increases in 2019, depending on the koruna exchange rate and factors including Brexit and U.S-China trade tensions.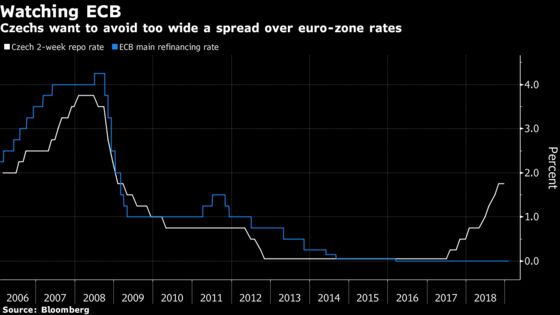 The central bank lowered its economic-expansion and inflation forecasts as regional growth eases. While domestic price pressures persist, rate-setters "can't ignore" signals of a relatively rapid cooling of growth in key trading partners and the outlook for a longer period of negative rates in the euro zone, Rusnok told reporters.
"These are the circumstances that led to the majority decision to wait with the next interest-rate increase until a future opportunity presents itself, by which I mean any meeting this year," he said. Rusnok said he can imagine one or two hikes in 2019, but there's also a possibility of no change at all if external conditions deteriorate further.
Czech manufacturing worsened more than expected last month, one of the first signs that a slowdown abroad is spilling into the export-reliant country. Apart from the impact of weaker euro-area demand, the central bank is trying to avoid pushing rates too high above those in the currency region.
The koruna, which was little changed after Thursday's meeting, will be an important variable for future monetary-policy decisions, as its persistent weakness was a major factor behind last year's rate increases.
"The Czech central bank is waiting for the euro-zone growth slowdown to bottom out before it resumes tightening," said Marcin Kujawski, an analyst at Nomura International Plc in London, who forecasts two more 25 basis-point hikes this year. "We see more tightening via interest rates because we expect the koruna will remain weaker than the central bank's forecast."