Euro Area's Money Supply Surge Isn't Yet an Inflation Warning
(Bloomberg) -- The current surge in the amount of money sloshing around in the euro zone is far from being a signal that the European Central Bank should guard against inflation, according to economist Nick Kounis at ABN Amro NV.
Growth in the broadest measure of money supply in the 19-nation economy accelerated to 10.2% in July, the strongest level in more than 12 years. Loans to companies also continued to expand at a brisk pace.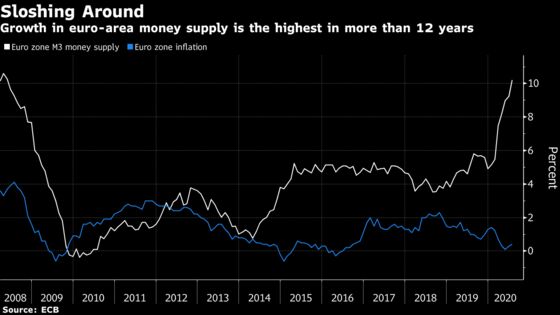 In normal times, that would suggest the economy is in for higher prices, but these aren't normal times. The jump is mainly the result of the ECB's efforts to rush out liquidity in the wake of the pandemic to keep interest rates down and markets stable.
Demand for goods -- which is also needed for price rises -- has been eroded by wide-ranging lockdowns that have kept businesses shut and uncertainty high.
"You need to look at the demand side of the economy," Kounis said. "There's still a lot of spare capacity, demand is weak and unemployment is probably going to rise -- that's not a signal for inflation."
The latest data are still likely to feed into a discussion over whether inflation is staging a comeback. That's a live topic among economists.
The ECB appears to share Kounis's view though. An account of the Governing Council's July meeting showed chief economist Philip Lane telling participants that credit growth continued to be driven to a large extent by "the acute liquidity needs in the economy."