Euro-Area Manufacturers Throw on Brakes Amid Trade War Turmoil
(Bloomberg) -- Growth in euro-area factory output slid to the weakest pace in two years as the spillover from trade wars is starting to dent demand.
IHS Markit's Purchasing Managers' Index for manufacturing slowed to 53.2 in September, down from 54.6 in August, and below a previous flash estimate of 53.3. The drop was driven by weak export demand, and companies in the sector said concerns over global protectionism were key factors behind their loss in confidence.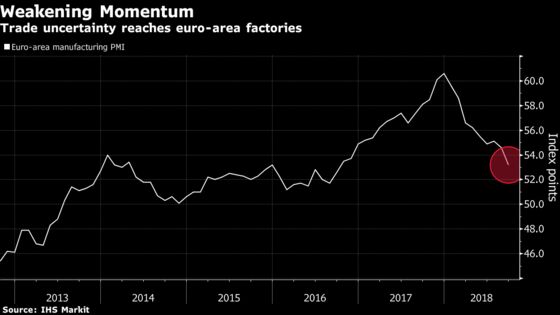 The numbers signal that frictions between the U.S. and other countries over tariffs are starting to affect the economy. Trade threats, along with the U.K.'s exit from the European Union, have raised concerns that euro-area growth could cool markedly, just as extraordinary monetary stimulus -- which has lowered borrowing costs and boosted companies' capacity to hire -- is starting to be wound down.
"The slowdown can be linked to sluggish demand and increased risk aversion among customers, often linked to worries about trade wars and tariffs, but also ascribed to rising political uncertainty and higher prices," said Chris Williamson, chief business economist at IHS Markit. "Forward-looking survey indicators suggest the worst is yet to come."
Weaker business optimism and order growth are signs that a recent decline in backlogs of work might continue. IHS Markit said the slowdown in manufacturing activity was broad-based across countries, with only the Netherlands recording an improvement.
European Central Bank President Mario Draghi said earlier this week the euro-area economy is still solid enough to cope with global risks, even with the institution's latest forecasts showing that growth will weaken slightly more than previously predicted.