Euro-Area Inflation Stuck Below Zero Adds to Case for ECB Action
(Bloomberg) -- Consumer prices in the euro area continued to fall in November, adding to the case for more European Central Bank stimulus next week.
The inflation rate came in at -0.3%, below the median estimate of -0.2% in a Bloomberg survey. A measure that includes volatile items such as food and energy remained at a record-low 0.2%.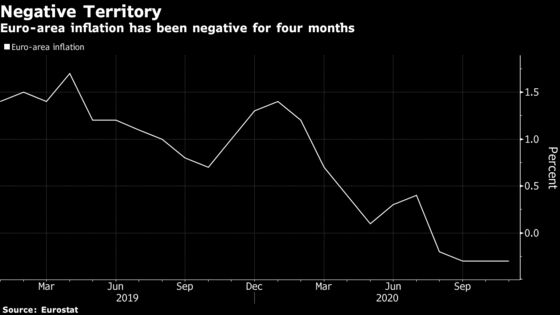 ECB policy makers have said that inflation will likely remain negative for the remainder of the year, partly due to low oil prices and temporary tax cuts to support the economy through the pandemic.
The outlook for price growth weakened further after wide parts of the 19-nation currency bloc imposed new restrictions to contain the spread of the coronavirus. The ECB, which currently forecasts inflation to rise to only 1.3% in 2022, will present new projections when it sets policy on Dec. 10.
The central bank is widely expected to increase the volume of its 1.35 trillion-euro ($1.6 trillion) asset-purchase program and extend it beyond its current end-date in the middle of next year. Executive Board member Isabel Schnabel said in a Bloomberg interview that there should be no doubts about the ECB's commitment to price stability.
The International Monetary Fund on Monday urged the ECB to boost asset purchases to foster a sustained increase in inflation, while also considering better terms for its long-term loans to banks and another cut to the deposit rate as options.