Euro-Area Inflation Remains Steady as Economy Battles Lockdowns
(Bloomberg) -- Inflation in the euro area remained steady last month as coronavirus lockdowns weighed on the region's economy.
Prices increased an annual 0.9% in February, matching expectations. They jumped sharply in January on the back of a range of technical factors such as the expiration of a temporary sales-tax cut in Germany. A measure excluding volatile items such as food and energy slowed to 1.1%.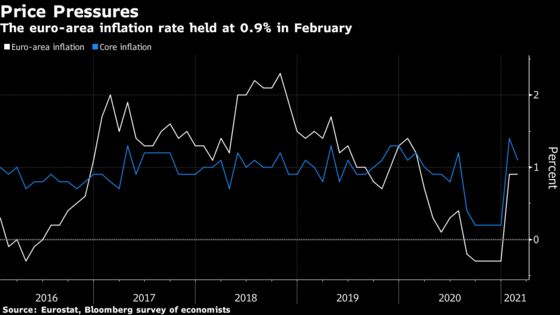 While the European Central Bank will generally welcome the return of faster inflation, it's also pledged to ignore short-term spikes this year as it continues to support the economy with a wave of liquidity. The institution will present new forecasts for prices and economic growth when it meets to set policy next week.
Global government bond yields have been rising on a more positive outlook, especially in the U.S. where massive fiscal stimulus is under way. The recovery in the euro area, however, appears to be lagging behind other developed economies partly because of the slow roll-out of vaccines.
Germany's inflation rate held at 1.6% in February, also matching estimates, according to a reading on Monday. Special factors will continue to impact prices in the coming months, the Bundesbank said in its latest monthly report.