Euro-Area Inflation Eases as ECB Nears End of Bond Buying
(Bloomberg) -- Euro-area inflation eased off a six-year high and core inflation slipped just as the European Central Bank gets ready to pare back monetary stimulus.
The data add to signs that the 19-nation economy is facing a more protracted slowdown after growth halved in the third quarter. While analysts have questioned whether the weaker momentum could force a policy rethink, ECB President Mario Draghi and his peers have stuck to their plans to cap quantitative easing at 2.6 trillion euros ($3 trillion) at the end of the year.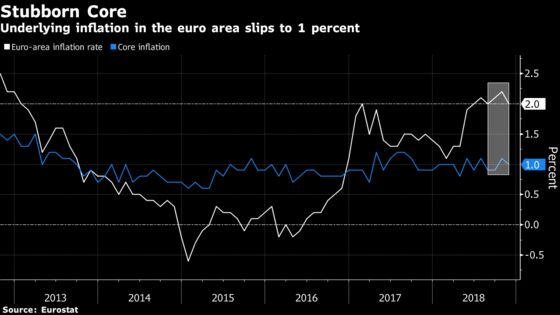 Although inflation has held near the ECB's target of a little less than 2 percent for six months, that's mostly the work of high energy costs. A gauge that strips out volatile components slipped to 1 percent in November, Eurostat said on Friday. The headline rates fell to 2 percent from 2.2 percent in October.
"You have headline inflation that's peaked and now we're beginning to see a softening," said Fabio Fois, a senior economist at Barclays Plc. "Core inflation is instead unlikely to pick up in a non-linear way in the months ahead precisely because wages are unlikely to accelerate decisively."
The Governing Council's decision on Dec. 13 will be informed by updated projections for economic growth and inflation, which will allow them to better judge the implications of the most recent slowdown on the broader outlook.
The European Commission said on Thursday that economic sentiment in the region weakened for an 11th straight month in November as a soft patch in manufacturing has started to seep into consumer confidence. That's an ominous sign for economic growth -- already at a four-year low -- in the final quarter.
What Our Economists Say...
"Core inflation won't be muted forever, assuming the slowdown in GDP growth is temporary. There's a decent body of evidence to show wage pressure is building, even though this have yet to be fully reflected in prices." 

--David Powell, Bloomberg Economics. Read our EURO-AREA REACT here.
Draghi maintained his view this week that some of the weakness will be short-lived, with policy makers expecting to focus their discussion in two weeks on how to reinvest existing debt when it matures.
Eurostat also released jobless data Friday, which showed the unemployment rate held at 8.1 percent in October.