Euro-Area Inflation Tops All Forecasts With Record 4.9%
Euro-area inflation surged to a record for the era of the single currency and exceeded all forecasts, adding to the European Central Bank's challenge before a crucial meeting next month on the future of monetary stimulus. 
Consumer prices rose an annual 4.9% in November, topping all 40 predictions in a Bloomberg survey of economists, where the median was for 4.5%. A measure that strips out volatile components such as food and energy also reached a record. The euro and bond markets were little changed after the publication of the data.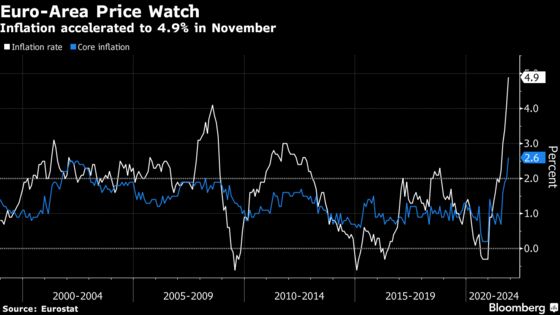 Anticipating a spike in inflation this month, ECB officials have redoubled efforts in recent days to reassure citizens that they are facing a once-in-a-generation cost-of-living squeeze that won't endure, driven by energy and a series of one-time factors.  
While President Christine Lagarde is sticking to that script, some colleagues are warning that price pressures might take longer to subside, stoking speculation about the future course of monetary policy. 
At a Dec. 16 gathering, the Governing Council is set to announce the end of its pandemic bond-buying plan and outline how regular purchases and interest rates will develop as the economy continues its recovery.
What Bloomberg Economics Says...
"While energy costs and statistical effects can explain the bulk of this month's jump, today's reading also revealed some stronger than anticipated underlying pressure. That will add to concern over upside risks to the outlook, but the ECB is still likely to see inflation falling below 2% by the end of next year."
-Maeva Cousin, senior euro-area economist. For full react, click here
Pressure for a swifter exit is likely to come from Germany, where inflation reached 6% this month, the fastest since the early 1990s. Bundesbank President Jens Weidmann, who will step down at the end of the year, has already sounded the alarm, saying it's possible the euro-area pace will remain above the ECB's 2% target in the medium term.
His Spanish counterpart Pablo Hernandez de Cos is warning against a premature removal of support however. On Monday, after data showed a national rate of 5.6% there -- also the highest in nearly three decades -- he argued there's no reason to rush to stop bond purchases given price pressures will ease "very significantly" in the second quarter.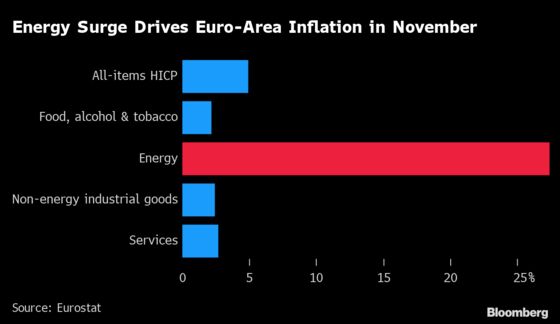 Updated projections for growth and inflation will guide the ECB's decision. In September, forecasts showed inflation easing to 1.5% in 2023. How that will change is highly uncertain after the sudden emergence of the omicron coronavirus strain, potentially more infectious than previously known variants, raised the risk of new restrictions. 
Resurgent cases in recent weeks already prompted the Netherlands and Germany to impose new curbs. Austria and Slovakia went into lockdown. If replicated elsewhere, such measures could weigh on output and amplify already unprecedented supply chain bottlenecks. 
ECB Vice President Luis de Guindos wonders if the current squeeze may last longer than expected. "There's a risk that inflation will not go down as quickly and as much as we predicted," he told Les Echos in an interview published Tuesday.
After the release of the inflation data, German 10-year yields stayed lower, falling three basis points to minus 0.35%. Money markets continue to expect the first ECB deposit-rate hike in 2023.