Euro-Area Inflation Accelerates Despite Economic Slowdown
(Bloomberg) -- Euro-area inflation accelerated in October and underlying price pressures increased, complicating policy makers' choices after the economy grew at its weakest pace since 2014.
Consumer prices jumped 2.2 percent from a year earlier while a measure that strips out volatile components rose to 1.1 percent.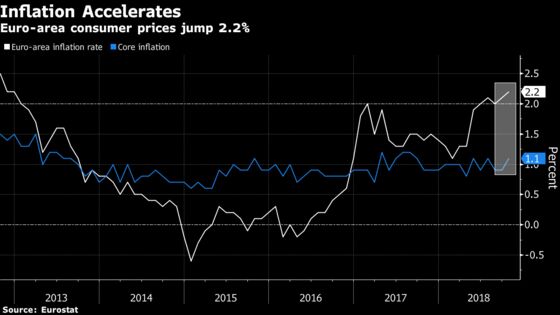 Inflation has been stronger than the European Central Bank's goal of just below 2 percent for the past five months, although energy has contributed a significant part to the pickup. President Mario Draghi has expressed confidence that a robust labor market and growing wages will also lift core prices, justifying a gradual withdrawal of monetary stimulus.
What Our Economists Say...
"The acceleration of euro-area inflation in October provides little reason for excitement. The headline figure was lifted by energy costs and the core print by legislative changes in Italy. Neither of those have much to do with the underlying state of the economy. The ECB will have to keep waiting for signs of the 'vigorous pick-up' recently alluded to by President Mario Draghi."

--David Powell and Jamie Murray, Bloomberg Economics

Read our Euro-Area React here
Yet while the inflation outlook in the 19-nation bloc is firming, prospects for the economy have deteriorated. Growth ground to a halt in Germany and Italy, two of the region's three largest economies, and weaker sentiment indicators don't point to a strong rebound. Risks remain prominent as well with Italy's budget crisis dragging on and a hard Brexit becoming more likely.
The mix of accelerating inflation and slowing growth comes at a tricky time for the ECB, where policy makers are poised to cap asset purchases this year. So far, they haven't raised the alarm, with Draghi saying last week that the euro area is facing "weaker momentum, not a downturn" because temporary factors such as Germany's car-sector troubles won't affect the long-term outlook.
Governing Council members Ewald Nowotny and Ardo Hansson both said on Wednesday that they see no compelling reasons to alter policy.
"There has been no significant material change that would increase doubts about the present forecasts" of the ECB, Hansson said. "There are some temporary factors at play."
Nowotny said he expects a downward revision when the ECB updates its growth and inflation projections next month, but not enough to delay the end of asset purchases.