Factories From Asia to Europe Put on the Brakes Over Trade Tensions
(Bloomberg) -- Manufacturers in the world's biggest economies are putting the brakes on production as they watch trade disputes with the U.S. unfold.
Reports on Wednesday showed factory activity in the U.S., Europe and Asia Pacific region slowed last month. With companies issuing warnings about the impact of tit-for-tat battles over import tariffs on their profits, the data suggest that protectionist threats are starting to weigh on global growth.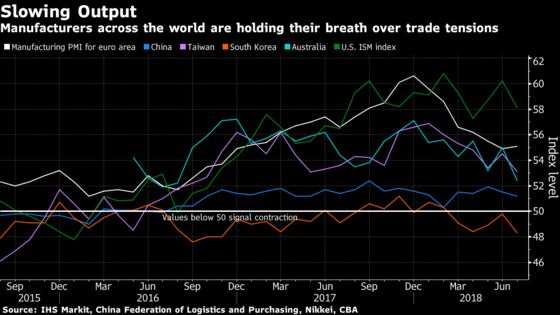 "Weaker expectations for global trade are clearly feeding through to production," said Stefan Schneider, chief international economist at Deutsche Bank. "Particularly in many open economies, such as Germany, but also Japan and Korea, weaker expectations for exports weigh on investment activity."
Carmakers including Germany's Daimler AG, Japan's Nissan Motor Co. and South Korea's Hyundai Motor Co. have outlined the damage they risk from higher levies. Asian companies that form a crucial plank in the global supply chain for electronics are preparing to shift more production to Southeast Asia as it becomes less appealing to produce in China. Even U.S.-based Harley-Davidson Inc. has been caught in the crossfire of the trade conflict, causing it to cut profit-margin forecasts.
The tension was highlighted on Wednesday when China warned the U.S. against "blackmailing and pressuring" it as the Trump administration mulls trying to force officials back to the negotiating table through threats of even higher tariffs. In the euro zone, where manufacturing is going through its weakest spell in one and a half years, the outlook may be a little brighter after policy makers on both sides agreed to hold off from fresh tariffs as they negotiate lower trade barriers.
What Our Economists Say
"China's Caixin manufacturing PMI showed a continuing deceleration in growth in July, consistent with the official PMI. This more external sector based survey highlights greater weakness in exports, particularly for small firms -- presenting early evidence of the trade war impact."
--Chang Shu and Fielding Chen, Bloomberg Economics. See CHINA REACT for more
The Institute for Supply Management's manufacturing gauge slipped by more than expected, to 58.1 in July from 60.2 in June, as a gauge of new orders fell to the lowest in more than a year. The group said respondents are "overwhelmingly concerned
Euro-area growth unexpectedly weakened in the second quarter, and a Purchasing Managers' Index by IHS Markit came in at 55.1 in July, only slightly higher than June's 18-month low of 54.9. Chief business economist Chris Williamson said manufacturers may have to lower production in coming months unless demand revives.
With optimism about the future at one of the lowest levels seen over the past two years, the "worse may be to come," he said. "The slowdown likely reflects worries about trade wars, tariffs and rising prices, as well as general uncertainty about the economic outlook."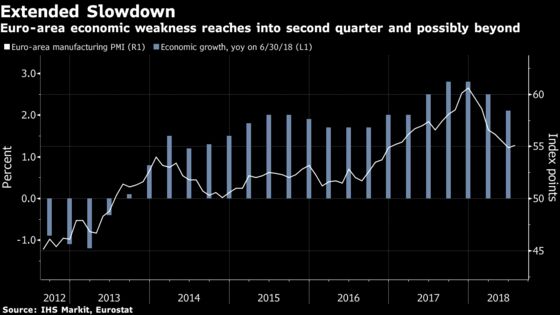 European Central Bank officials judged last month that overall risks to the region's economic expansion are still broadly balanced, with inflation pressures building gradually. President Mario Draghi has reiterated the institution's forecast for growth of 2.1 percent this year.
Other reports on Wednesday showed manufacturing picked up in Brazil and cooled slightly in Canada.
The Federal Reserve is holding its policy meeting this week in Washington, with a decision due later on Wednesday. Chairman Jerome Powell has signaled that the U.S. central bank could take a break from increasing interest rates at some point as inflation is closing in on the bank's goal and unemployment remains below the rate sustainable in the long-term. But this time around, economists predict officials will reinforce bets on a hike in September.