Euro-Area Economy on Weak Footing Faces 2019 Uncertainties
(Bloomberg) -- The euro-area economy is on a weak footing as it faces perilous uncertainties in 2019, from home-grown political difficulties to global stock-market turmoil and trade wars.
The first significant batch of data released at the start of the year showed inflation was lower than expected in December and confirmed earlier reports that growth in manufacturing and services eased to the weakest since 2014.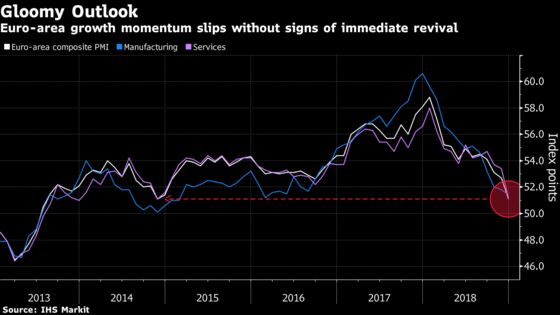 An increasingly anemic economy -- weakened by slower global growth and the impact of protectionist policies -- will test the resolve of the European Central Bank in sticking to its plans to gradually pare back stimulus. Policy makers already walked a fine line in December by downgrading economic forecasts at the same time as ending net asset purchases that have helped buoy euro-area demand.
ECB Executive Board member Benoit Coeure put up a show of confidence on Friday, saying the expansion is "comfortable" in the euro area and "strong" at a global level. At the same time, he reiterated that interest rates will remain low for a long time and said the decision to stop bond buying is an inflection rather than a turning point in the central bank's strategy.
"There is a slowdown because of worries about trade and there is still a risk of financial crisis," Coeure said in an interview on French radio France Inter. "We must be very vigilant."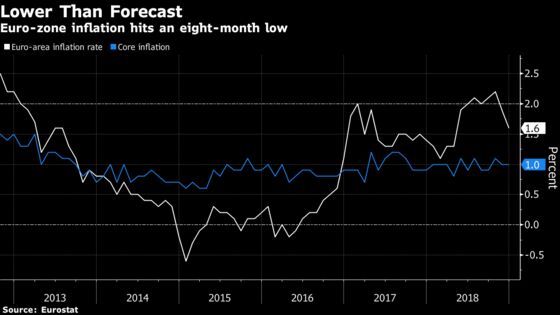 Weaker inflation underlines policy makers' stance that any exit from unconventional stimulus must be gradual. Consumer prices increased an annual 1.6 percent in December, down from 1.9 percent in November.
What Our Economists Say...
"The sharp decline of euro-area inflation in December is entirely explained by energy prices. While that has few implications for underlying price increases, it calls for caution -- wage setting could yet be affected. This means the ECB will be in no hurry to lift rates and the first hike may not come until December this year."

--David Powell, Bloomberg Economics. Read more
The euro-area economy stumbled at the end of 2018 as violent protests in France depressed output and consumption, political instability continued to rock Italy and Germany's car industry struggled to rebound from changes in regulation in the fall.
IHS Markit's Purchasing Managers' Index for factories and services stood at 51.1 in December, down 7 points over the course of last year. While the reading suggests the economy grew about 0.3 percent last quarter, the momentum was only half that pace last month.
Despite indications of slower growth, German unemployment figures provided some reassurance on Friday. Joblessness decreased by a seasonally adjusted 14,000 in December to 2.26 million and the unemployment rate remained at a record low 5 percent.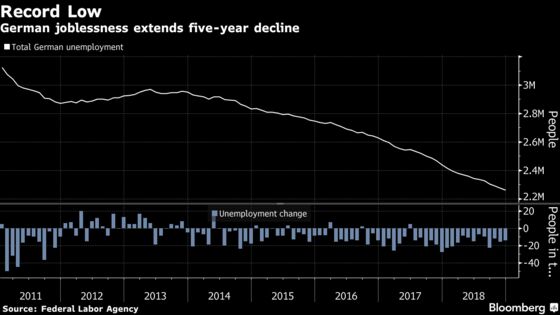 Data next week will give a better picture of the state of the euro area, with reports on industrial production from the region's four largest economies and economic confidence in the 19-nation bloc.