Euro-Area Economy Offers Glimmers of Hope on ECB Meeting Day
(Bloomberg) -- The euro-area economy enjoyed broad-based growth at the end of last year that was only weighed down by a change in inventories.
Private and government spending accelerated, investment expanded at a solid pace and trade made a positive contribution to gross domestic product. Growth was confirmed at 0.2 percent in the fourth quarter, while a reading for the previous three months was revised down to 0.1 percent.
Paired with a pickup in employment and robust pay gains, the report offers some positive news for European Central Bank officials meeting in Frankfurt in an otherwise gloomy environment. President Mario Draghi is set to announce severe cuts to the 2019 outlook later on Thursday, reflecting deteriorating prospects for the global economy and a bout of external risks related to trade wars and Brexit.
Household consumption, government spending and investment added 0.1 percentage point each to GDP growth, while trade contributed 0.2 point. Inventories subtracted 0.4 point, as carmakers in Germany started shifting stocks after disruption over the summer.
A strong labor market also fed through to workers' compensation, which rose 2.2 percent in the fourth quarter. That offers encouraging signals for policy makers struggling to lift inflation, even though weaker demand in manufacturing is causing a slowdown in input costs as well as output charges. The ECB has previously flagged a timeframe of six to 12 months for wage growth to feed through to inflation.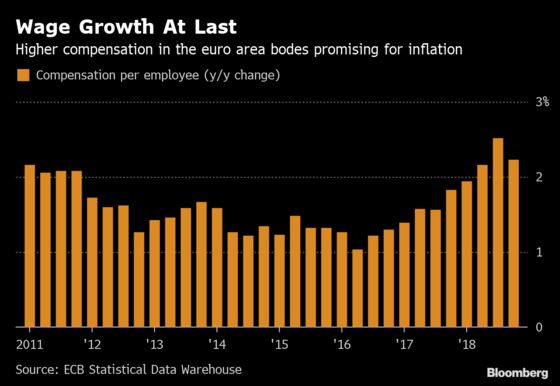 Purchasing managers' indexes for services also offered signs of comfort. Gauges for the region's top three economies improved this week. Retail sales rebounded at the start of the year.
ECB officials are discussing the design of new long-term loans to banks, according to people familiar with the matter. An announcement may come as early as Thursday.