Euro Area's Post-Lockdown Revival Still Leaves Long Road Ahead
(Bloomberg) -- The pick up in euro-area economic activity after the lifting of lockdowns in June is doing little to change the picture of a long, slow recovery and rising unemployment.
The latest Purchasing Managers Indexes from IHS Markit showed an economic rebound underway, with French data unexpectedly signaling expansion for the first time in four months. But new business in the region continued to fall, employment declined and companies had to cut prices to help sales.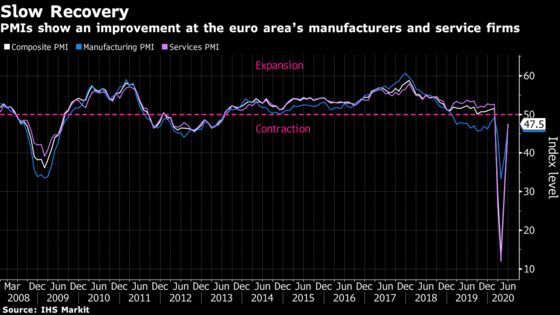 The report sums up the tricky picture for businesses across Europe, which are reopening after coronavirus restrictions but face circumstances that are far from normal. European Central Bank officials said this week that while risks of financial turmoil have receded significantly, the speed and scale of the recovery remain "extremely uncertain."
The situation could be compounded by a rise in unemployment. While government-backed furlough programs limited an initial spike in joblessness during lockdowns, they can't stem the tide indefinitely, particularly for industries likely to suffer long-term damage. German airline Deutsche Lufthansa SA is cutting thousands of jobs, while France's Airbus SE is also reducing headcount.
"We remain very cautious of the strength and sustainability of any economic rebound," said Chris Williamson, chief business economist at Markit. "The job market remains a particular area of concern, especially if demand fails to pick up sharply in coming months."
With the outlook still uncertain, authorities are looking at ways to protect businesses and jobs as well as boost demand. In Spain, the government is weighing plans to significantly increase the size of its 100 billion-euro ($113 billion) loan-guarantee fund after the program attracted huge demand, according to people familiar with the matter.
The euro-area figures on Tuesday showed the composite PMI rose to 47.5 in June from 31.9 in May. The number for Germany, Europe's largest economy, also improved.
The euro, which rose after the better-than-expected French reading, remained higher against the dollar, and was up 0.3% at $1.1289 as of 11:10 a.m. Frankfurt time.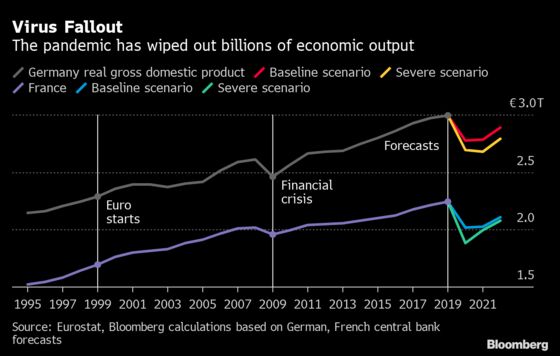 In a separate report, the World Trade Organization said global trade is unlikely to be as bad as its pessimistic scenario published in April for a 32% slump this year. Its optimistic view also envisages a contraction, though at less than half that scale. It expects a rebound of 5%-20% in 2021.
What Bloomberg Economists' Say...

"While it's clear that the lifting of containment measures is helping businesses, there's a risk that demand weakness will linger. Markit reports that new orders continued to decline, albeit at a slower pace than in previous months -- as the situation stabilizes, prospects for new orders will be an important gauge to watch to assess how far the recovery can run."

-- Maeva Cousin, euro area economist. Read her full REACT.
The International Monetary Fund will update its global outlook later this week.
Markit expects the euro-area economy to shrink by more than 8% this year -- roughly in line with consensus -- and said that the recovery's momentum could fade after an initial spurt. It could take up to three years for the region to regain its pre-pandemic level of GDP.
ECB policy maker Francois Villeroy de Galhau last week offered a similar view of the recovery, warning that the early pace won't last.
"If I had to give a shape to the recovery I'd say it's a half-V because we have climbed up very fast and we forecast we will continue to climb more gently," he said on RTL radio last week. "Fundamentally, it's a recovery in the form of a bird's wing."