Euro-Area Economy Grows Least in Four Years as Germany Drags
(Bloomberg) -- Euro-area growth slowed in the third quarter, held back by a contraction in Germany, its biggest economy.
Gross domestic product grew 0.2 percent, matching an initial estimate, but half the pace recorded in the previous period, Eurostat said Wednesday. Industrial production declined 0.3 percent in September, the second decline in three months, with the biggest falls coming in energy and non-durable consumer goods.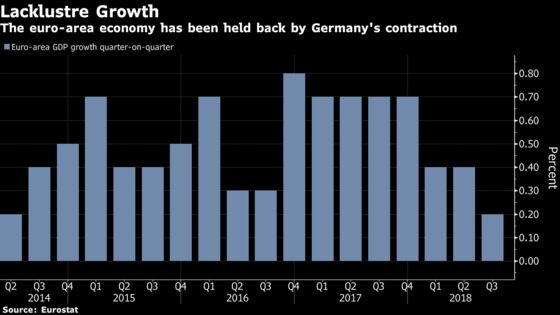 The data confirms evidence from both surveys and company executives that manufacturing in the currency bloc is going through a difficult patch.
The economic growth figures are the weakest the euro-area has seen since 2014. The slowdown has fueled speculation about how the European Central Bank will respond, with some forecasters pushing back their predictions for interest-rate increases.
ECB policy makers have flagged their Dec. 13 meeting as a key one, as they will consider a new set of forecasts.
Eurostat will release final third-quarter data a week before then -- Dec. 7 -- which will break down the euro-area's economic performance by GDP components
For more details on Germany's third-quarter contraction, click here.
September's industrial production decline was slightly less than economists' estimate of 0.4 percent. Energy production shrank 1.7 percent from August and non-durable consumer goods fell 1.3 percent. Capital goods was the only sector where output grew in September, increasing 0.3 percent.
Eurostat also released figures which showed employment grew 0.2 percent in the three months through September. That's the slowest since 2015.