Euro-Area Economy's Bumpy 2018 Keeps ECB on Edge About Risks
(Bloomberg) -- The euro-area economy's bumpy ride in 2018 may not be over just yet, with risks both near and far to keep Mario Draghi on edge when it comes to the next policy step.
From the global trade dispute to Italy's budget battles, threats remain "prominent," to use the words of the European Central Bank president. On top of the impact of uncertainty on investment, higher oil prices may drain consumer confidence. Already, weaker surveys and sentiment measures suggest there's no significant rebound coming soon after the economy grew the least in four years in the third quarter.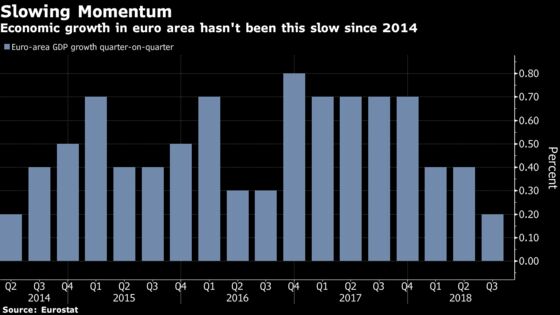 While there were temporary factors at play, including a hit to German car production, that continues a theme of the year after bad weather and strikes in France took their toll in the first half.
The slowdown comes at a crucial time for the ECB as it prepares to cap asset purchases. Draghi said last week that the euro area has lost some momentum, but isn't headed for a downturn. So while the plan to wind down QE remains on track for now, a further slide in growth could make it harder for Draghi to ignore the bad news.
At the same time, inflation continues to accelerate, underpinning the central bank's view that price growth is back on track. A report Tuesday showed Germany's consumer prices rose an annual 2.4 percent in October, the most in more than six years, and euro-area data on Wednesday is expected to come in at 2.2 percent. The ECB's goal is inflation of just below 2 percent over the medium term.
What Our Economists Say...
"Taking what we know so far and the influence of temporary factors into account, it still seems that underlying growth momentum has faded somewhat… A persistent slowdown to 0.2 percent a quarter would be a major source of concern to the ECB and could prompt a delay to higher interest rates."

--Jamie Murray and David Powell, Bloomberg Economics. Full REACT
Among the major one-off factors in the third-quarter underperformance was in Germany, where issues in the auto industry may have meant the expansion stalled. The economy of Italy, in a ongoing fight with Brussels over its controversial plans to boost fiscal spending, also stagnated, while France grew less than anticipated.
The sluggishness means the euro area is slipping behind the U.S. once again after growing faster in 2017. The U.S. economy has just recorded its best back to back quarters since 2014.
Actual
Survey
Prior
French GDP
0.4%
0.5%
0.2%
Italian GDP
0.0%
0.2%
0.2%
Euro-area economic confidence
109.8
110.0
110.9
German inflation
2.4%
2.4%
2.2%
Spanish GDP
due Oct. 31
0.6%
0.6%
German GDP
due Nov. 14
     n/a
0.5%
According to Oliver Rakau, an economist at Oxford Economics in Frankfurt, the ECB will acknowledge the changed environment and cut its growth forecasts in December, but it won't be enough to delay the end of QE.
"We would not overstate the impact on the policy outlook, though, which hinges on inflation and where downside risks are less obvious,'' he said.
After a stellar 2017, the weaker euro-zone performance is largely a consequence of slower exports, which have suffered from protectionist policies, while domestic demand has held up well. A gauge of industrial confidence in the euro area fell this month by the most since March as order books deteriorated. Weaker demand also hurt sentiment in services.
Protectionism may be about to be ramped up even further. The U.S. is preparing to announce by early December tariffs on all remaining Chinese imports if talks next month between presidents Donald Trump and Xi Jinping fail to ease the trade war, three people familiar with the matter said.
"We still have a reasonably robust economic backdrop,'' Philipp Hildebrand, vice-chairman of BlackRock, said on Bloomberg Television, noting that U.S.-China tensions are the main risk. "The bad news is the uncertainty about where this will land has increased significantly. There's a much wider range of potential outcomes.''