Trade Tensions, Italian Uncertainty Put a Cloud on Europe's Mood
(Bloomberg) -- Euro-area economic confidence slid for a ninth month, the longest streak of declines since 2011, as protectionism and political uncertainty cast a cloud over the outlook.
The latest drop in sentiment coincided with Germany having its growth outlook slashed and the WTO downgrading its view of global trade. The latter also warned that the U.S.-China tariff spat is already hurting corporate investment.
Within Europe, there's further reason for concern as investors await an update from Italy about its public finances. Italian bonds fell amid reports that government budget talks have been hit by a dispute, which could delay publication of long-awaited fiscal targets.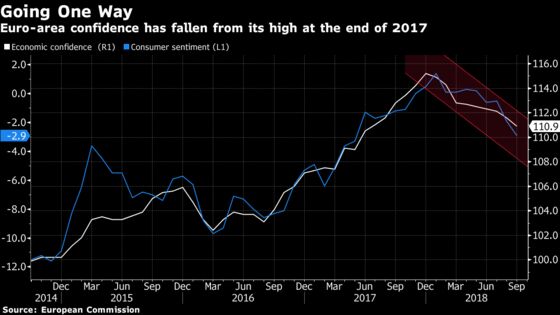 With the triple whammy of global trade frictions, a possible hard Brexit and populist rhetoric by the Italian government, the European Central Bank has acknowledged that risks have increased. Globally, the expansion may be "hitting a plateau," the OECD said this month, also citing trade in its latest update.
The WTO said Thursday that world merchandise trade growth will slow to 3.9 percent this year from 4.7 percent in 2017. That's a much sharper slowdown than the one to 4.4 percent projected in April. Separately, DHL's global trade barometer fell to the lowest since 2016 because of "rising political tensions."
Downside risks "have since materialized, most notably a rise in actual and proposed trade measures," the WTO said. "The direct economic effects of these measures have been modest to date but the uncertainty they generate may already be having an impact through reduced investment spending."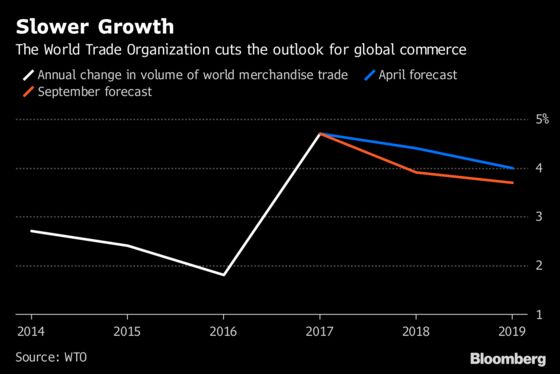 The European Commission's sentiment index -- covering both households and companies -- is now at the lowest in more than a year. Manufacturers' expectations decreased markedly in September, and consumers became more worried about their financial situation, job prospects and the broader economy.
Optimism has waned across the continent. National measures show French consumer sentiment is the lowest in more than two years, and business confidence in Germany has slipped. Carmaker BMW cut its profit forecast this week, citing international trade conflicts.
"Brexit, the continued trade war, emerging market worries and concerns about the Italian budget are factors that have brought down confidence in the global economy," said Bert Colijn, an economist at ING in Amsterdam. "Some of these factors could fester in the months ahead."