Euro-Area Confidence Was Improving Before Coronavirus Hit Italy
Euro-area economic confidence unexpectedly increased this month, indicating the bloc was gaining momentum before Italy took a blow from the spread of the coronavirus.
The European Commission's sentiment index rose for a fourth month in February, with improvements in industry, services and consumer optimism. While the results, along other reports, suggest a mild pickup after the economy's weak end to 2019, they may not fully reflect the current state of affairs.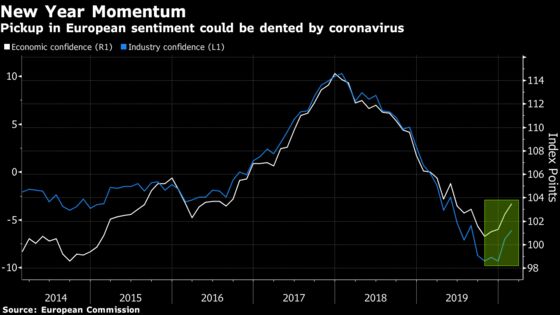 The virus outbreak that began in China is increasingly casting a pall over economic activity. With factories closed, air transport halted, and consumers confined to their homes, companies including Royal Philips NV and Danone have grown more downbeat on their outlook.
On Thursday, Credit Suisse cut its forecast for global economic growth this year to 2.2% from 2.6%. It sees the euro zone expanding just 0.5%.
In Italy, the bloc's third-largest economy, several towns in the wealthy, industrialized north are under quarantine due to the disease outbreak, and public events have been canceled.
What Bloomberg's Economists Say

"Most analysts are assuming that the virus will be contained in 1Q. Taking the official numbers on falling new cases at face value that sounds plausible for China, though far from guaranteed. With outbreaks in Korea, Iran, Italy, and elsewhere, the global picture is even less certain."

--Tom Orlik. Read the GLOBAL INSIGHT
The Commission survey was conducted Feb. 3-20. It showed a second monthly gain in industry confidence, with a gauge for existing orders improving by the most in 2 1/2 years. Service providers expected demand to remain stable, while households' economic expectations jumped.
Sentiment saw marked improvements in the Netherlands, France and Spain, as well as a small uptick in Germany.
Much will depend on how the spread of the coronavirus will impact confidence in the weeks ahead. The epidemic has already triggered calls for more stimulative action by the European Central Bank, though with interest rates already negative and asset purchases underway, it's not clear how much more firepower it has left.
Officials including France's Francois Villeroy de Galhau and Italy's Ignazio Visco have called on governments to take the lead in rebooting economies if there's a deeper impact on growth.
The ECB, which is in the midst of a review of how it conducts business, will update its projections for growth and inflation when the Governing Council gathers in two weeks.
ALSO READ
RELATED COVERAGE
Virus or Not, Religion Dominates in Land of Islamic Shrines