Euro-Area Banks Facing Funding Cliff Look to ECB for Help
(Bloomberg) -- Euro-area lenders are facing a cliff edge for their funding, and some are hoping the European Central Bank will help them out.
Around 722 billion euros ($832 billion) of long-term loans granted to banks by the ECB will start maturing from 2020, and new regulatory standards mean replacement funds could be needed as soon as next year. One concern is that lenders could be forced to refinance just as market rates rise, spurred by tighter U.S. policy and tensions such as Brexit and Italian politics.
Some banks have been in contact with the ECB to discuss the risk of letting those four-year loans expire without affordable alternatives being in place, according to people familiar with the conversations. Some discussions took place on the sidelines of the International Monetary Fund meeting in Bali this month, the people said, asking not to be named as the matter is confidential. An ECB spokesman declined to comment.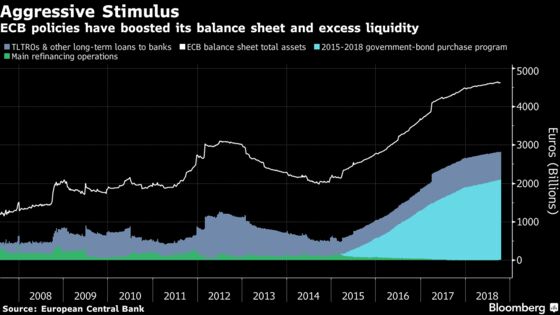 Any squeeze on banks threatens to undermine lending, slowing the euro area's economic expansion and potentially delaying the ECB's exit from crisis-era stimulus. The central bank's negative deposit rate is already depressing lenders' profitability, as President Mario Draghi acknowledged at a press briefing after the IMF meeting.
The ECB's cheap four-year loans, known as Targeted Longer-Term Refinancing Operations or TLTROs, were doled out from 2014-2017 and were intended to push banks to lend more to companies and households. The repayment deadlines mean the region's massive excess liquidity will start contracting, putting upward pressure on market rates -- unless the ECB starts a new round of funding.
Loan demand increased in the third quarter, according to a survey conducted by the ECB. Banks eased credit standards for enterprises and mortgages in the period.
"Importantly, this would hand back control of the eventual balance-sheet reduction to the policy makers," said Anatoli Annenkov, an economist at Societe Generale. "Moreover, it would help maintain high excess liquidity and anchor rates to the deposit rate, supporting the ECB's ability to control rates."
The topic will likely gain more attention next year when banks begin planning how to meet their financing needs under standards including the "net stable funding ratio" that determines the types of liquidity they must hold. As funds with less than one year maturity don't count toward that calculation, banks may need to start refinancing from June 2019.
The impact of TLTRO maturity was discussed on Sept. 25 by money-market participants in a contact group that regularly meets at the ECB. The summary of the meeting, published Monday, said "the replacement of TLTRO funds for NSFR purposes was seen as a challenge and would need to be carefully planned and included in banks' long-term funding and liquidity plans."
Annenkov said small and medium-sized banks across countries would see the greatest benefit from a new TLTRO round, as they're likely face more difficulty getting market funding.
Deutsche Bank analyst Paola Sabbione says Italian banks would be particularly hard hit if the ECB doesn't offer new funding, after taking up about a third of the previous rounds.
"With their high TLTRO exposure and growing funding costs in correlation to sovereign spread widening, the Italian banks are more exposed to exit-strategy risks," she said in a note. "Deleveraging seems the most obvious response in the presence of prolonged funding stress."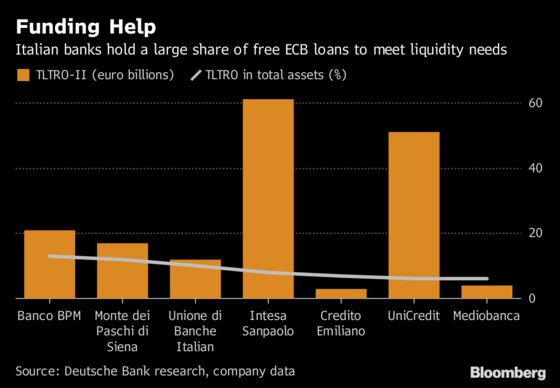 One risk is that issuing more TLTROs might signal that the euro-area revival is still fragile, undermining the ECB's narrative that the domestic economy is solid and inflation is on track toward its goal.
Policy makers, who will hold a rate-setting meeting this week, are striving to end their crisis-era measures. They plan to cap their 2.6 trillion-euro asset purchase program in December, and acknowledge market expectations that rates will rise in late 2019.
"There simply has not been any discussion on this issue yet" in the Governing Council, Dutch central-bank Governor Klaas Knot said in an interview in Bali. "It has been our task to keep monetary transmission as smooth as possible. So we will see what we need to do there."
Even if officials decide to issue more TLTROs, they may use shorter maturities to show normalization is on track. Most economists in a Bloomberg survey last week said they expect the ECB to offer new long-term loans, but allow overall liquidity to decline.
"The conditions of the new loans may be slightly less generous than the current series," said Rabobank Nederland's Bas van Geffen and Elwin de Groot. "Save for these conditions, it is beyond the ECB's control whether this operation will cause the balance sheet to shrink as this is ultimately a function of banks' demand."