Euro Area Added Jobs in Sign of Resilience Against Lockdowns
(Bloomberg) -- The euro area added jobs at the end of last year, suggesting businesses are looking beyond the latest economic woes caused by coronavirus lockdowns.
Employment in the 19-nation currency bloc rose 0.3% in the fourth quarter for a second consecutive gain. The economy shrank 0.6% in the same period, slightly less than initially reported.
Separately, German investor confidence jumped to the highest since September, beating all estimates in a Bloomberg survey.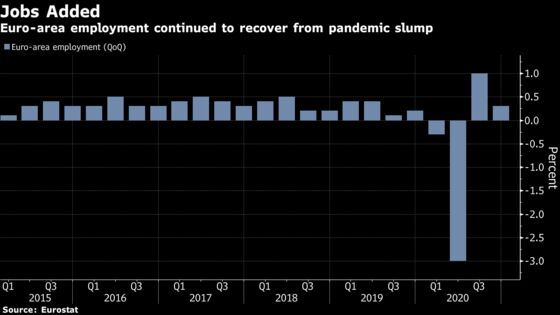 The signs are that while the economy is unlikely to avoid another recession as virus restrictions are extended, it's holding up better than during the first half of last year. Manufacturing is proving particularly resilient as global demand and supply chains are less badly hurt this time around.
In France, joblessness unexpectedly declined to 8% in the fourth quarter. The Netherlands reported an economic contraction of 0.1%.
Still, directly affected businesses in the travel and hospitality sector are finding their finances stretched. The near-term outlook remains challenging as a result, with mutations of the virus creating new risks and countries grappling with their vaccination campaigns adding to uncertainty.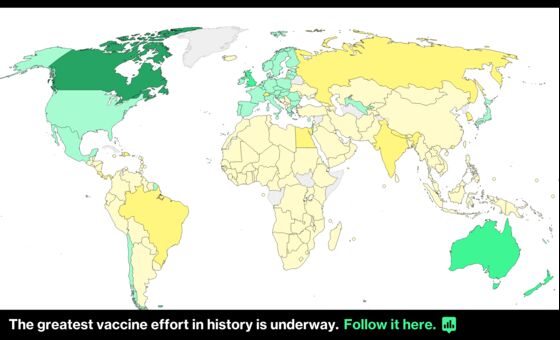 The European Commission last week cut its euro-area economic outlook for this year to 3.8% from 4.2%, and said developments largely depend on the success of the bloc's immunization efforts. An increase in bankruptcies that would cause higher unemployment also remains a key risk, it said.
The widespread use of furloughs has limited damage to the labor market, but also put an increasing strain on public finances. The region's governments are set to discuss how and when to phase out their extraordinary support to the economy in the coming months.