EU Races to Overcome Banks' Reluctance to Lend in Some Countries
(Bloomberg) -- The European Union is urgently reviewing measures that would help companies and households take advantage of unprecedented relief measures after complaints that banks are reluctant to lend.
Speaking shortly after a meeting with industry groups on the matter, European Commission Vice President Valdis Dombrovskis said Brussels was looking at setting a "European benchmark of relief measures, best practices in selected areas which then can be followed by institutions across the EU."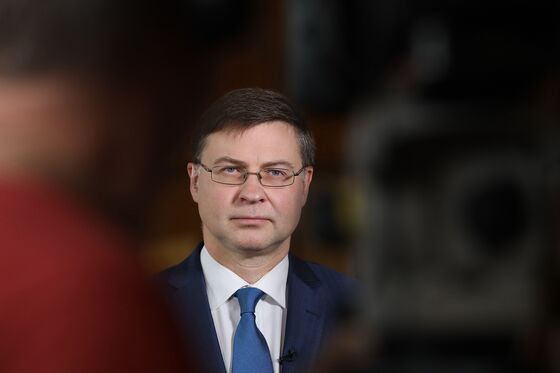 "We're talking about weeks, not months, because one thing which business and consumer organizations were especially emphasizing is urgency," he said in an interview Thursday.
Governments have deployed trillions of euros in stimulus to keep businesses afloat and workers employed during the shutdowns. Much of that came in the form of loan guarantees to minimize the risks for lenders and keep credit flowing to businesses dealing with a sharp drop in revenue.
Euro-area companies dramatically boosted their reliance on bank loans to get through the coronavirus lockdowns in April to cover expenses such as rent and wages, according to data published Friday by the European Central Bank. Lending to businesses rose 6.6% from a year earlier, the fastest pace since the depths of the global financial crisis more than a decade ago.
Still, small businesses have identified "major problems" in accessing funds, based on a survey by lobby group SME United published this week. They range from complicated administrative procedures to a reluctance of banks to take remaining risks where public guarantees don't cover the full amount that borrowers are seeking.
While a number of good initiatives have been put in place across the 27-nation bloc, "the implementation is not even across member states," Dombrovskis said. Companies and households seeking liquidity shouldn't face "adverse conditions like substantially raising interest rates, burdensome application procedures, excessive fees charged and excessive collateral requirements."
Lenders are playing a very different role in the current crisis than they did in the last one more than a decade ago. They were the root of the problem and swallowed vast amounts of taxpayer funds. Now they're on the frontlines in channeling public aid to the real economy, after receiving substantial regulatory relief to help them fulfill this task.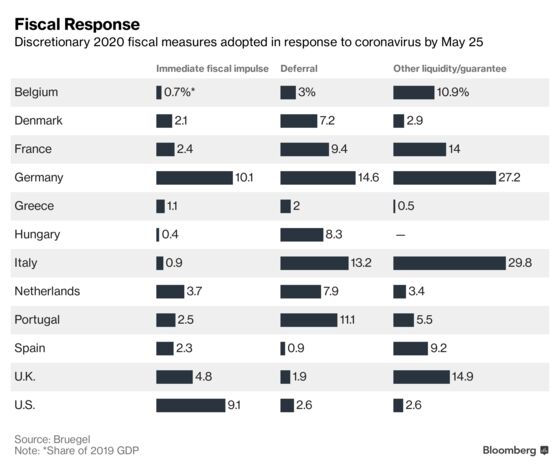 In Italy, banks have been criticized for being too slow to process loan applications because of excessive bureaucracy. Lenders in the country have pushed back and instead blamed regulations for holding them back.
"Our industry is part of society and is responsible in the execution of its task," Wim Mijs, head of the European Banking Federation, said in a statement after Thursday's discussion. "It is also important that we collectively take a good look at the existing banking regulation and determine where the legal framework has supported the economy and where pro-cyclical measures have caused obstacles."
Germany has been able to deploy much greater stimulus than countries with less fiscal power, another problem that the EU is grappling with. The bloc's executive arm has previously warned that economic divergence as a result of the outbreak could threaten the stability of the euro area.
Dombrovskis said stimulus would have to flow through various channels, including common ones like the European Investment Bank, to even out those differences.
"We need to use all tools which are at our disposal," he said. If productive capacity can be maintained, "we'll be able to rebound quicker and stronger once the pandemic is under control."