EU to Trump: Look at Services When Griping About Trade Deficit
(Bloomberg) -- The European Union's top two officials warned about greater trade tensions with the U.S. as President Donald Trump weighs tariffs on foreign cars after irking American allies with metal-import levies.
EU President Donald Tusk said Europe must be prepared for "worst-case scenarios" in international commerce, echoing an alarm he sounded before a European summit last week. Jean-Claude Juncker, head of the European Commission, the 28-nation bloc's executive arm, said Trump's fixation on a U.S. trade deficit in goods ignores a services surplus.
"We feel that the deficit is on the other side," Juncker told the European Parliament on Tuesday in Strasbourg, France. "If you add up all of the trade in goods and services and the profits made by American companies, the benefit is on the other side of the Atlantic."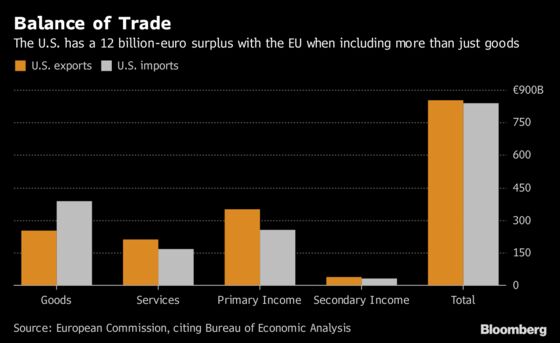 The global commercial order is being shaken by the Trump administration's use of an obscure U.S. trade-law provision on national security to justify steel and aluminum tariffs against a host of countries including defense allies.
The EU has called the levies pure protectionism, imposed retaliatory tariffs and complained to the World Trade Organization. With Trump threatening to deploy the national-security argument to introduce U.S. tariffs on cars and auto parts, the bloc has also vowed a firm stance on any U.S. automotive duties.
The value of EU automotive exports to the U.S. is about 10 times greater than that of the bloc's steel and aluminum exports combined. That means any European retaliation over car tariffs introduced by Trump would likely target a bigger sum of American goods exported to Europe than the amount hit by the European measures responding to the metal levies.
Juncker is due to visit Washington in late July for talks with Trump. Trade will be a focus of the discussions, according to Juncker.
Amid a separate U.S. dispute with China over intellectual property and in the wake of news reports that Trump has considered withdrawing from the WTO, Tusk stressed an agreement by the EU's national leaders last week to press for improvements in the way the Geneva-based global trade arbiter operates.
"In the context of growing trade tensions," Tusk told the EU Parliament on Tuesday, the bloc's leaders are aware of "the importance of preserving and deepening the rules-based multilateral system."