EU's Most Mobile Workforce Is Now Staying Home in Record Numbers
With unemployment near the lowest ever and about every second company reporting greater difficulty in finding staff at home, almost 76 percent of Poles are "completely" ruling out the option of seeking employment abroad, according to a survey released on Tuesday by Work Service SA. That's the most since the Warsaw-based recruiting and human services provider began to monitor migration preferences in Poland four years ago, when half the respondents planned to stay home.
"Poles are less inclined to emigrate" as a result of "a more favorable position of employees on the labor market where more and better jobs are available," said Maciej Witucki, chief executive officer at Work Service. "However, another labor market-related factor -- pay -- is still a major factor for Poles considering emigration."
The sea change in Poland is rippling through western Europe's labor markets, with the U.K. in the first quarter experiencing a record drop in employment among people from the eight ex-communist countries -- including Poland -- that joined the EU in 2004. Since Poland entered the bloc, about 2.6 million people have moved to mainly western European nations, drawn by better-paid jobs and looking to raise their standards of living.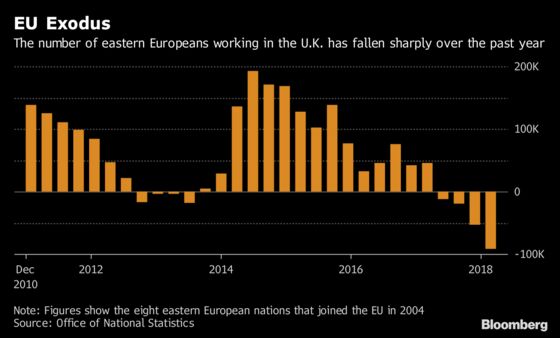 Years of declining joblessness and the second-fastest wage growth this decade are reshaping worker preferences in an economy that's on track to expand faster than 4 percent for a second year. Still, the average hourly salary in Poland was only 6.30 euros ($7.40) last year, the third-lowest in the EU, and 20 euros less than the bloc's average.
Disparities in pay are mainly why almost 12 percent of workers, or 2.6 million adult Poles, are still considering emigration, compared with nearly 14 percent a year ago, according to Work Service. Its poll was conducted by phone March 20-29 among 708 adult Poles with a margin of error of 3.7 percentage points.
Work abroad is still appealing for younger Poles. An interest in emigration "increased especially" among 35- to 44-year-olds, which could mean that they find themselves in a "permanently disadvantageous" situation in the domestic labor market, according to Work Service.