EU Likely to Reject Italy's Draft Budget Plans, Oettinger Says
(Bloomberg) -- The European Commission is "very likely" to reject Italy's 2019 budget plan because it's not compatible with the bloc's rules, Commissioner Guenther Oettinger said.
Italy's populist coalition submitted its draft budget to the European Union earlier this week, and is waiting for an initial assessment from the EU's Brussels-based executive. The government is forecasting a deficit of 2.4 percent next year, three times the previous government's projection. The extra deficit will help pay for tax cuts, a lower retirement age and new benefits for the poor.
"It is my personal opinion that based on the figures it is very likely that we have to ask Italy to correct the draft budget," Oettinger said on Twitter.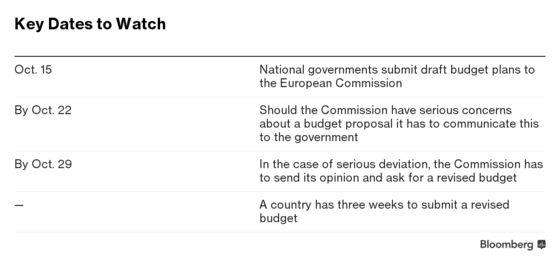 Earlier, Spiegel magazine reported that the Commission has already decided to reject the budget plan, citing comments from Oettinger. In his Twitter statement, he said that isn't true.
EU budget chief Pierre Moscovici will be in the Italian capital on Thursday and Friday to meet with Finance Minister Giovanni Tria and central bank governor Ignazio Visco. Tria said he expects "continued dialogue" with the Commission over Italy's plans.
Tria has said the deficit was already trending toward 2 percent of GDP because of slowing growth and the government's new spending plans will help boost the economy. The budget deficit will decline to 2.1 percent in 2020 and 1.8 percent in 2021, according to the plan. The draft also sees a continued decline in the debt ratio to 128.1 percent in 2020 from 130 percent in 2019 and 130.9 percent this year.
Italy's Parliamentary Budget Office refused to endorse the budget saying its economic assumptions weren't acceptable.
While Italy's deficit is well within the 3 percent limit laid out in treaties, the Commission has demanded smaller deficits for Italy to bring down its debt load. On Oct. 5, officials in Brussels wrote to Tria warning him that earlier drafts of the budget deviated from past pledges to cut debt. Italy's debt load is the largest in Europe in absolute terms and second only to Greece's as a percentage of the economy.