EU Cuts German Growth Outlook, Sees 'Pronounced' Euro-Area Risks
(Bloomberg) -- Go inside the global economy with Stephanie Flanders in her new podcast, Stephanomics. Subscribe via Pocket Cast or iTunes.
The European Commission cut its growth forecasts for the euro area and slashed its projection for Germany as it warned that escalating trade tensions threaten to make the outlook even worse.
Most of the downgrades were less severe than in the previous report in February, apart from Germany, where the 2019 prediction was slashed to just 0.5 percent from 1.1 percent. Officials in Brussels warned that downside risks to the region's outlook remain "prominent."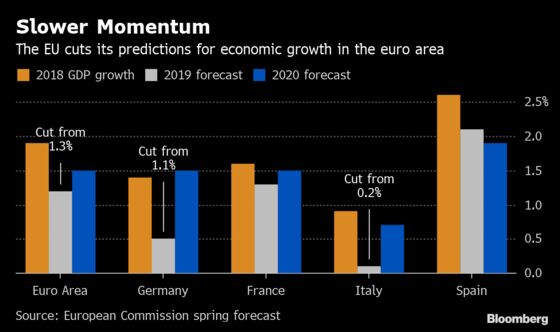 The forecasts reflect more pronounced weakness in the region, which has stumbled due to a slowdown in the global economy, unresolved trade disputes and "exceptional weakness" in manufacturing. Meanwhile sentiment has taken a hit from disruptions in the auto industry, social unrest, and uncertainty related to Brexit.
German carmaker BMW said on Tuesday that the economic backdrop is "increasingly challenging" and business conditions are "expected to remain volatile."
"As initial deadlines for U.S.-China trade negotiations and Brexit have passed without resolution, various uncertainties continue to loom large," the European Commission said in its quarterly report. "An escalation of trade tensions could prove to be a major shock."
Core euro-area bonds rose and the euro extended its decline against the dollar after the report. Yields on German 10-year debt fell back below zero on Tuesday to minus 0.04 percent. They've tumbled this year as weaker growth and inflation forced the European Central Bank to keep interest rates lower for longer.
The commission tried to put an optimistic spin on the report, saying the euro-area economy has proven resilient to a "less favorable'' global environment. While it sees weaker growth this year -- just 1.2 percent -- it's predicting a rebound to 1.5 percent in 2020. That's still lower than the 1.6 percent it forecast earlier this year.
But the positive angle was undercut by the huge German downgrade and its warnings about the outlook. The specter of protectionism loomed once again this week when the U.S. threatened higher tariffs on Chinese imports amid accusations of bad faith in talks. That's hit global equities and raised fresh concerns about the global outlook.
The commission said its forecasts rest on the assumption that trade and policy uncertainty will recede, or at least not escalate. But it cautioned that any deviation from these could lead to a "more persistent slowdown."
The cut-off for the report was April 24, before the publication of better-than-expected first-quarter GDP data for the euro zone. That was among a number of recent releases that pointed to stabilization.
What Bloomberg's Economists Say

"The EC's decision to lower its growth estimates for Germany and Italy look excessive in view of GDP data published last week... However, while a stronger-than-anticipated performance in the first quarter is welcome, risks to euro-area growth remain tilted to the downside."

-- Maeva Cousin and David Powell
Click here to read the full report
But some economies continue to struggle, particularly Italy, where 2019 growth may come in at just 0.1 percent. That will hit the public finances, and the commission sees the deficit widening this year and next.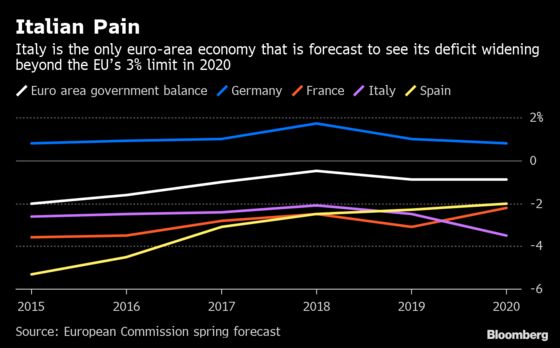 Slower euro-zone growth is also complicating matters for the ECB, which has already had to redraw plans for exiting stimulus measures because of weaker inflation. The commission said the pass-through of higher wage growth to underlying price pressures has been "surprisingly muted."
It sees euro-area inflation averaging 1.4 percent this year and next. The ECB aims to get price growth to just below 2 percent over the medium term.
A no deal Brexit would damp economic growth, particularly in the U.K. but also in the EU27, though to a minor extent, the commission said. It warned there's is a risk that "any unsustainable policies or political uncertainty" that follow national or European elections this month could harm private investment.