EU Asks Italy to Cut $5 Billion of Spending, Repubblica Says
(Bloomberg) -- Jean-Claude Juncker wants more from Italy. The European Commission chief asked Premier Giuseppe Conte to lower the budget deficit target for next year to 1.95 percent from the original 2.4 percent, la Repubblica newspaper reported Sunday.
Juncker, who met Conte before a Group of 20 nations summit in Buenos Aires, sought about 4.5 billion euros ($5.1 billion) of spending cuts to avoid possible sanctions, la Repubblica reported, without saying where it obtained the information. Italy should also focus on cutting extra spending related to pension reform, according to the newspaper.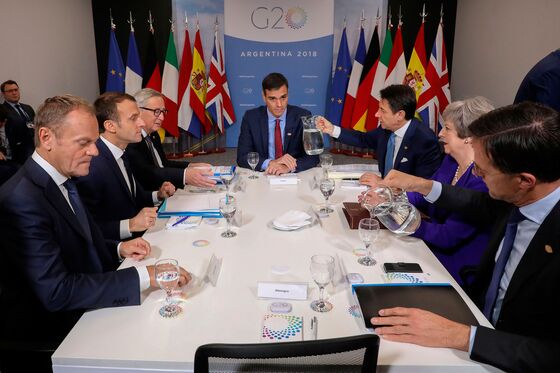 The European Commission declined to comment on the la Repubblica report. "President Juncker and PM Conte had another good meeting in Buenos Aires. Work will continue to try and find a solution," a commission spokesman said.
Lawmakers were still considering various amendments to the proposed budget law, with a full debate expected in the lower house of Parliament on Wednesday, news agency Ansa reported Sunday.
During the summit in Argentina, Conte signaled optimism that his government would reach an agreement with the commission in a dispute over the populist spending spree that's designed to meet election promises. Conte said the two sides were studying several options for a possible deal.
"We are working on hypotheses with the European Union," Conte told reporters on Saturday. "We trust that in coming days we will be able to discuss a technical solution."
Conte will need to brief his deputies, Matteo Salvini and Luigi Di Maio, on his return to Rome. Both deputy premiers have recently indicated a readiness to lower the 2.4 percent budget deficit target for next year, while insisting their programs will be carried out.