Eskom's Return to International Markets May Come at Premium
(Bloomberg) -- It won't be a cheap welcome back into international debt markets for Eskom Holdings SOC Ltd.
The state-owned power utility may have to pay up for a planned dollar-bond sale given the state of its finances, according to Futuregrowth Asset Management, South Africa's biggest specialist fixed-income money manager.
Eskom has 218 billion rand ($16.5 billion) of debt due in the next five years, and is only halfway to its target of raising 72 billion rand in the current financial year, which ends in March. After posting an annual loss this week, the company said it doesn't have enough operational cash flow to service existing debt, though a $2.5 billion loan agreed with the China Development Bank bought it some breathing space.
"Investors are likely to price for Eskom's worsening credit profile, and so yes, the additional debt will likely be priced accordingly," said Olga Constantatos, credit and equity process manager at Cape Town-based Futuregrowth, which oversees about $14 billion. "Without a dramatic improvement in Eskom's revenues, profit and cash flows -- which would require Eskom to sell more electricity, at higher tariffs, and drastically cut their cost base -- it is hard to see how the balance sheet can withstand additional debt."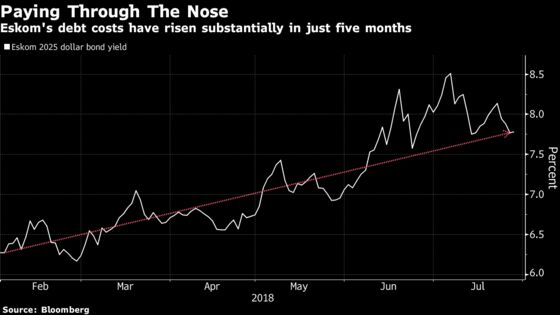 Eskom, which generates more than 90 percent of South Africa's electricity, mandated Barclays Plc, JPMorgan Chase & Co., Standard Bank Group Ltd. and Absa Group Ltd. to organize a series of fixed-income meetings with investors in London and the U.S. next week, according to a person familiar with the situation, who asked not to be identified because they're not authorized to speak publicly.
A benchmark-sized dollar-denominated bond with a maturity of up to 10 years, guaranteed by South Africa's government, may follow subject to market conditions, the person said. Eskom may also explore a second, non-guaranteed, tranche. The company last sold dollar bonds in 2015.
Eskom is meeting local and international investors, spokesman Khulu Phasiwe said in a text message in response to Bloomberg's questions, without giving details.
A perception that the utility is in the too-big-to-fail category means that there would be appetite for the debt, according to Nedbank Group Ltd. Guaranteed notes would hold the sovereign rating of Baa3 at Moody's Investors Service and BB at S&P Global ratings, while the non-guaranteed securities would be rated B3 and CCC+.
"While stand-alone fundamentals are weak at Eskom, it remains systemically important to the Republic, so every measure will and is being taken to avert a default, because the sovereign can't afford for that to happen," said Jones Gondo, a senior credit analyst at Nedbank. "If you believe there is sufficient implicit support, you might even find it attractive to invest without the guarantee."
Yields on Eskom's $1.25 billion of Eurobonds due 2025 were little changed at 7.8 percent by 2:53 p.m. in London. The yield has dropped 33 basis points this week, paring its rise since the beginning of April to 107 basis points.