Eskom's Borrowing Costs Fall in First Eurobond Sale Since 2015
(Bloomberg) -- It's turning into a good week for Eskom Holdings SOC Ltd., South Africa's state-owned electricity company.
The cash-strapped utility's borrowing costs fell as it tapped international debt markets for the first time in more than three years, barely a week after it secured a $2.5 billion loan from China Development Bank. It also moved closer to a wage deal with labor unions on Friday that would end work stoppages that have disrupted power supplies.
Eskom sold $1 billion of government-guaranteed bonds at a spread of 336.4 basis points over U.S. Treasuries, and $500 million of notes without the guarantee paying a premium of 546.4 points, according to data compiled by Bloomberg. That's less than the 556.1 point spread on Eskom's previous sale of unsecured dollar debt in 2015.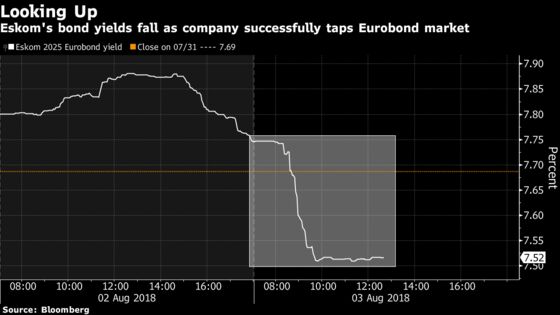 The power utility, which has reported losses despite generating more than 90 percent of the country's electricity, has been flagged by ratings companies as a key risk to South Africa's economy while it grapples with issues from unsustainable debt to allegations of mismanagement and corruption. This week's bond issue and the Chinese loan may help stabilize its finances.
"It's a good transaction for Eskom and the hint of an accord with the three main trade unions gave the deal a push at the last moment," said Richard Segal, a senior analyst at Manulife Asset Management Ltd. in London, which owns some of Eskom's 2025 dollar bonds. "Launching this bond without a guarantee would have been complicated, but it works out as an effective compromise, in which the government bears some of the risk. Funding risk for most of 2018/19 has been sorted out."
Barclays Plc, JPMorgan Chase & Co., Standard Bank Group Ltd. and Absa Group Ltd. managed this week's sale.
Yields on Eskom's $1.25 billion of Eurobonds due February 2025 dropped 23 basis points on Friday to 7.59 percent, the lowest since June 11.