Erdogan Targets Lower Inflation Before Turkish Prices Data
(Bloomberg) -- Turkey doesn't deserve double-digit inflation and price increases need to be curbed, President Recep Tayyip Erdogan told supporters two days before the latest data is released.
"God willing, inflation will fall again to six, seven percent," the state-run Anadolu agency cited Erdogan as saying in Rize on Saturday. "Inflation at 20, 19 percent -- we don't deserve this."
Faced with stubbornly high inflation before local elections due on March 31, Erdogan's government has opened food stalls in the country's big cities in an attempt to rein in prices. On Friday, Erdogan said the government would "withdraw from the market" only if prices decline.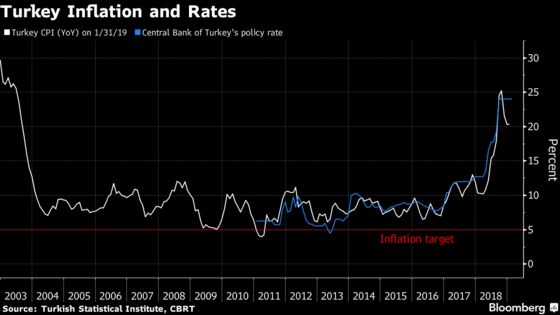 The statistics office in Ankara will publish February's inflation data on Monday. Annual consumer price increases will slow to 19.9 percent, from January's 20.35 percent, according to the median estimate in a Bloomberg survey of 17 analysts.