Endgame Near for Erdogan's Central Banker as Rates Cut Again
(Bloomberg) -- Explore what's moving the global economy in the new season of the Stephanomics podcast. Subscribe via Apple Podcast, Spotify or Pocket Cast.
The easy part is probably over for Governor Murat Uysal after the Turkish central bank delivered another interest-rate cut that exceeded forecasts.
Emboldened by lira stability and egged on by President Recep Tayyip Erdogan's calls for more aggressive easing, the Monetary Policy Committee reduced its key rate for a fourth straight time to 12% from 14%, exceeding predictions of most economists surveyed by Bloomberg.
But less than six months into his tenure, Uysal is feeling out the limits of the easing cycle, given his pledge to preserve "a reasonable rate of real return" for investors. The MPC on Thursday removed a phrase used in an earlier statement that said its stance was "to a large part" consistent with the projected disinflation path, suggesting it could now move slower to loosen policy. The lira kept gains after the decision, trading 0.7% stronger against the dollar as of 5:52 p.m. in Istanbul.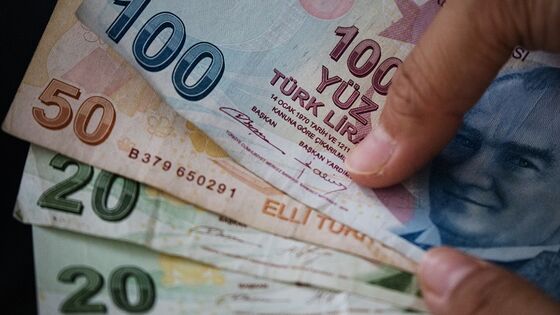 With inflation on the upswing again, Turkey's real borrowing costs, the world's highest when Uysal took over in July, may not provide much of a buffer against market selloffs for too much longer. Adjusted for prices, rates in Turkey are already below many peers and could turn negative next month, according to Credit Agricole CIB.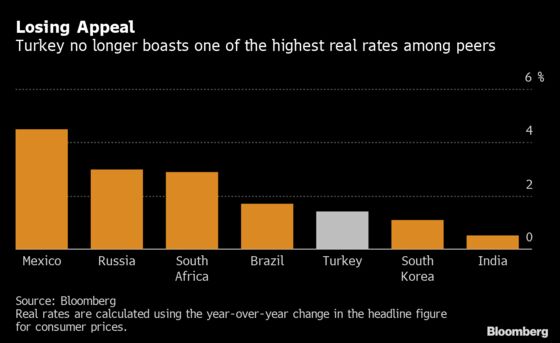 "It is not so attractive for foreign investors," said Guillaume Tresca, a Paris-based strategist at Credit Agricole.
The latest move brings the cumulative easing under Uysal's watch to 12 percentage points, rolling back the dramatic rate hikes used by the central bank to fight last year's currency crisis. Erdogan ousted his predecessor for not acting fast enough.
What Our Economists Say...
"The latest reduction completely reverses the monetary tightening that followed last year's currency crisis. But with inflation accelerating on currency base effects, the easing cycle will probably take a pause until the second quarter of next year."

-- Ziad Daoud
Click here to view the piece.
Until now, the lira has largely withstood the onslaught of rate cuts, itsone-month implied volatility falling in December to the lowest in years. Still, worries abound among investors, with Turkey's currency on track this month for the worst performance in emerging markets against the dollar.
"The bank will likely turn cautious in the near term given likely stickier inflation readings with a less supportive base, low ex-post real policy rate as well as ongoing high dollarization and subdued capital flow outlook," said Muhammet Mercan, chief economist at ING Bank AS.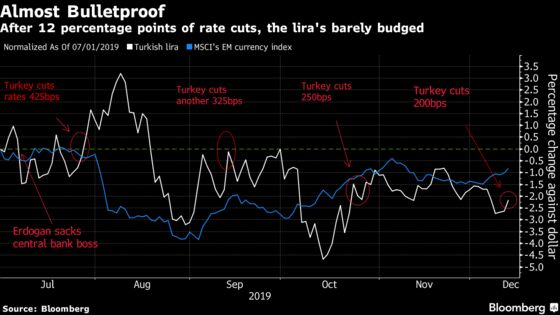 Just as he's done ahead of all policy decisions since installing Uysal, Erdogan sounded off on monetary matters again in the days before this week's meeting, saying, "we will be moving to single digits in interest rates in 2020."
Erdogan's fixation on low rates was hardly the only reason for easing, with the economy just beginning to gain momentum after a recession. Even as inflation bounced back in November, it didn't heat up as much as expected, ensuring that before this week's meeting, Turkey still boasted one of the highest real rates in emerging markets.
Inflation began to soar in June 2018 after a crash in the lira touched off a surge in domestic prices across the import-dependent economy. After peaking at 25.2% last year, it plummeted into single digits before a pickup to an annual 10.6% in November.
Price growth is likely to end the year near the lower bound of the central bank's October inflation projections, or around 11%, "with risks around the disinflation path for 2020 being balanced," the MPC said on Thursday.
Meanwhile, policy makers have also increased the number of their meetings next year to 12, from eight in 2019, a decision that could allow them to move in smaller steps if they chase Erdogan's goal of single-digit rates.
"The script for the central bank to follow is cut as quickly as you can get away with, without sacrificing macro-financial stability, and get credit growth firing on all cylinders again," said Timothy Ash, a strategist at BlueBay Asset Management. "The experience over the past 20 years in Turkey is that such a credit-driven growth model usually ends in tears."