Erdogan's Lira Experiment Tests His Grip on Turkey
(Bloomberg) -- The unraveling of the Turkish lira threatens to erode Recep Tayyip Erdogan's grasp on the economy and is already emboldening his political opponents. 
Small protests erupted in Istanbul and Ankara overnight, calling for an end to economic mismanagement that's unleashed rapid inflation and triggered the currency's longest losing streak in two decades. Police erected barriers in parts of the commercial capital as protesters vented their fury against the ruling AK Party. 
Erdogan's push for lower interest rates is intended to turbo-boost growth, create jobs and revive his flagging popularity ahead of general elections in 2023, but the resulting price shocks are having the opposite effect. After two decades in power, his party could be facing a point of no return.
Analysts, central bank veterans and political rivals warned that inflation -- already running at 20% -- was bound to spiral higher, and make many Turks poorer, and angrier. 
"The latest turmoil will push undecided voters upset by the economic outlook into opposition ranks," said Can Selcuki, head of Istanbul-based pollster Turkiye Raporu. "The odds of the ruling party falling short of 30% support rate permanently have increased."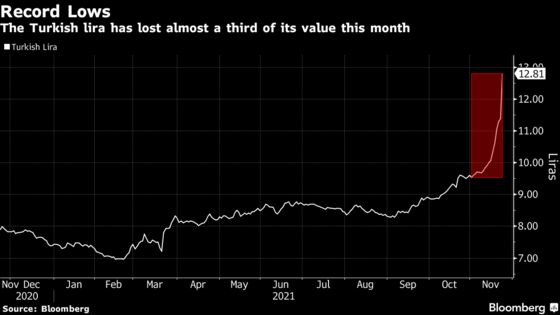 The push for lower borrowing costs is hardly new for Erdogan, who has long argued that cheaper money slows inflation -- a view that defies mainstream economics. 
Driving credit-fueled growth before elections has worked for Erdogan in the past. But the accumulating impact of that policy, rising income inequalities, and the damage wrought by Covid, means the potential social costs are much bigger this time.
The lira sank past 13 per dollar for the first time on Tuesday, capping the second-biggest plunge in 20 years. The yield on Turkey's 10-year lira bonds jumped to 21.1%, the highest since May 2019. 
The currency has lost two-thirds of its value in the last three years, making life more expensive in the nation of 84 million. 
The 2023 election will be the first since his shock defeat in the 2019 municipal vote, where key battlegrounds including Istanbul and the capital Ankara were lost to the opposition for the first time in a quarter century. On Tuesday Erdogan waved off the idea of early elections. 
"Around 60% of the population lost all hope in the government's ability to solve Turkey's economic problems over the next 12 months," according to Mehmet Ali Kulat, head of Istanbul-based pollster MAK Danismanlik. 
He said the share of support for the AK Party among likely voters is set to fall below 30% over economic developments, compared to around 43% in the last general elections in 2018. 
Erdogan has repeatedly shown he's capable of policy U-turns when faced with market turmoil. In 2018, he accepted two large rate increases to halt the lira's decline. He tolerated two other shock tightening cycles in the preceding five years, all while sticking to his public stance that high interest rates were fueling inflation.
But signs abound that this time might be different.
"The pain threshold is now much higher before we see a course-reversal, given President Erdogan's entrenched opposition to raising interest rates and - in our opinion - his greater sway over the direction of monetary policy," Phoenix Kalen, a strategist at Societe Generale, said in an emailed note. "A much more substantial currency devaluation is necessary this time around before Turkish policymakers intervene to stem the currency rout." 
The central bank, which has used verbal interventions before an emergency hike during past bouts of lira volatility, signaled such action remains unlikely. 
Following a meeting between Governor Sahap Kavcioglu and Erdogan at the height of Tuesday's lira selloff, the bank said the slide was excessive but offered no immediate response.
"The Central Bank of the Republic of Turkey implements floating exchange rate regime and has no commitment to any exchange rate level," it said. 
Ibrahim Turhan, an opposition politician who previously served as a deputy central bank governor, said investors had abandoned the notion that monetary authority was in control.
"Central bank independence isn't just a fantasy," Turhan said in televised comments on Tuesday night. "Inflation will fuel lira depreciation. And weaker lira will fuel inflation again. This is a spiral."