Era of Debt Decline Nears End in Budget Reckoning for Israel
(Bloomberg) -- Nearly a decade of declines in Israel's debt burden could be coming to an end as the government's spending blows its deficit targets.
The fiscal deficit as a share of gross domestic product has swelled to the highest level since at least 2014, dragging down the government's 30-year bonds. Citigroup Inc. predicts Israel will breach its deficit targets in 2018 and possibly 2019, potentially resulting in the first increase in debt-to-GDP ratio in nine years.
Thanks to years of careful fiscal management, Israel's current ratio is much lower than the average among developed countries, providing it with a cushion. But the government has caught the spending bug at a time when global growth is plateauing, a concern for an export-driven economy that sells everything from chips to pharmaceuticals abroad.
Windfalls such as Intel Corp.'s $15 billion purchase of Mobileye NV in 2017 have helped Israel compensate for rising expenditures, but the lack of one-off tax hauls this year means the budget is more vulnerable to a combination of tax cuts and generous public outlays on programs including housing and disability benefits.
Former Bank of Israel Governor Karnit Flug had repeatedly clashed with the government over its policy mix. Just before her term ended this month, she blamed the deficit overshoot on short-sighted thinking. With national elections on the horizon and the governing coalition holding on by the narrowest of majorities, fiscal priorities are unlikely to change soon.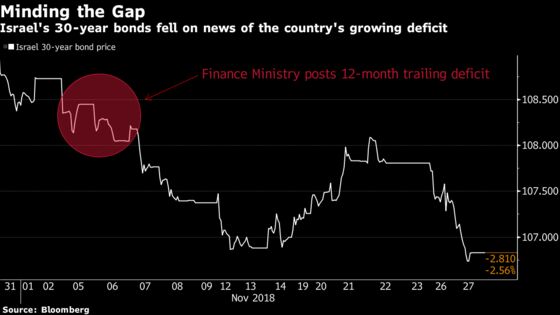 "You had great tax revenues that covered up this reality, so nobody really cared because your actual deficit came in lower than expected," said Jonathan Katz, a Tel Aviv-based chief economist for Leader Capital Markets Ltd. "All of a sudden, this policy has become so transparent because you don't have those revenues any more and growth may be slowing, so it's all coming to the fore."
The changing budget calculus is now putting the spotlight on Israel's public debt only months after it succeeded in lowering the government's load below 60 percent of economic output, from near 100 percent around the start of the century.
While officials including Finance Minister Moshe Kahlon have shown little concern, next year's vote could make fiscal discipline harder to come by and put the deficit target of 2.9 percent of GDP out of reach. In one encouraging sign this month, however, the government approved budget cuts to fund a salary increase for security personnel.
Reducing the debt-to-GDP ratio is a national priority. A Finance Ministry official called the country's recent milestone "our security blanket," according to Haaretz.
Still, public finances have benefited from one-time revenues including capital gains and taxes on dividends, with Israel reaping a total of 15 billion shekels ($4 billion) from such items last year alone. In nominal terms, meanwhile, spending climbed over 50 percent from 2010 to 2017.
Although Kahlon has insisted the country "won't significantly breach the limit" of 2.9 percent for 2018, Citigroup warns it may end the year near 3.4 percent because of higher spending than accounted for in the budget. Bank Hapoalim economists have described a scenario of a 4 percent shortfall next year as "no longer of low probability."
"The country is doing well in the end and it's not overshooting by a huge margin at this point," said Citigroup economist Michel Nies. "But it is something to worry about, especially because of where we are in the business cycle," with growth strong and a potential slowdown ahead.
The government's 12-month trailing budget deficit reached 3.6 percent of GDP as of the end of October. Israeli 30-year yields climbed after the announcement, a sign that investors are demanding a higher premium for what they see as increased risk.
The yield on the country's 30-year bonds has risen 100 basis points so far this month to 3.51 percent.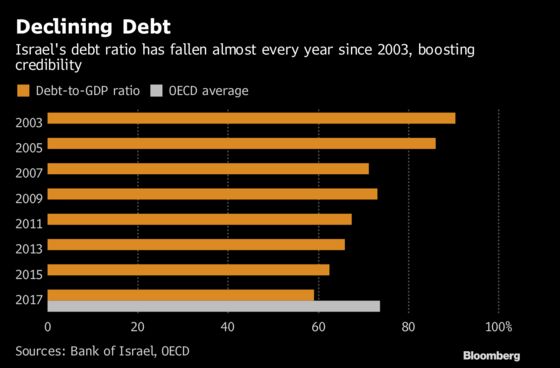 The changing debt dynamic could be cause for worry at S&P Global Ratings, which just upgraded Israel's sovereign credit ranking to AA-, the fourth-highest investment grade.
"If we see like a consistent change in the debt-to-GDP trajectory," that "would basically be a concern for us," S&P analyst Karen Vartapetov said in an interview. The key risk for Israel is the global growth outlook, he said.