Epic Airbus-Boeing Fight Signals Long U.S.-China Trade War Ahead
(Bloomberg) -- For the better part of two decades, the U.S. and EU have battled at the World Trade Organization over aircraft makers Boeing Co. and Airbus SE.
Complaints and counter-complaints alleged illegal government subsidies. Rulings by the arbiter of global trade were followed by more grumbles and threats of duties. And still the arguments rage on with no sign of a resolution.
Now as America and China engage in a volley of tariffs, the inability of the U.S. and EU to resolve their dispute offers a key lesson for the burgeoning trade war: It's going to be long and hard-fought.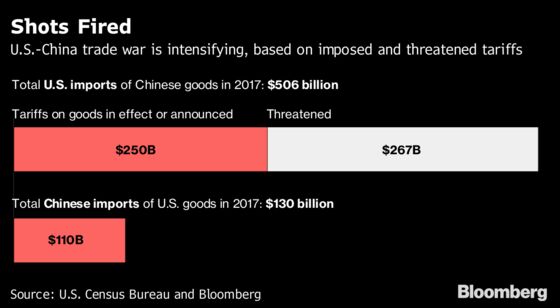 While President Donald Trump has talked mostly about the trade balance, the conflict with China runs deeper. The U.S. has pitched it as a battle over the technology industries of the 21st century -- and President Xi Jinping's explicit strategy to transform China into a global leader in areas such as artificial intelligence, robotics and new-energy vehicles.
That's a direct challenge to the U.S., which charges that Beijing is using methods such as forced technology transfers and illegal government support to pursue its goals. The problem, when it comes to seeking a resolution, is that Xi's Made in China 2025 strategy is central to China's ambitions. It's one thing to persuade a country to buy more soybeans or import more cars. It's another to get it to negotiate away its economic future to a strategic rival.
"The success of Airbus was seen as critical to European industrial strategy, and the EU simply wasn't going to be dissuaded," said Edward Alden, senior fellow at the Council on Foreign Relations specializing in U.S. economic competitiveness, trade, and immigration policy. "China is in much the same position."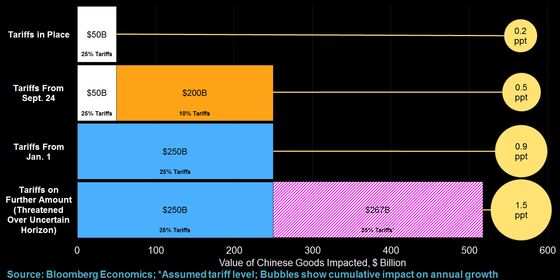 Beijing rejects the U.S. charges and has warned that it won't negotiate with "a knife at its throat." Wang Shouwen, vice commerce minister, said recently that Beijing doesn't force technology transfers but that it does reserve the right to require foreign companies operating in certain sectors to enter joint ventures with domestic firms, as allowed under WTO rules.
In any case, Beijing is hardly the first to support key industries. Governments in Japan and South Korea did the same to direct their nations' economic emergence, while Germany's "Industry 4.0" plan adopted in 2013 served as the inspiration for Made in China 2025.
And then there's the U.S. and EU. Their 14-year fight ranks among the longest and most expensive in the WTO's 23-year history. The U.S. launched the first salvo in 2004, with the WTO ultimately finding that the EU provided Airbus with subsidies in violation of WTO rules. Meanwhile, the EU had filed its own case that resulted in a ruling that U.S. federal and state tax-incentive programs unfairly benefited Boeing.
Both sides say they've complied with the WTO rulings -- and they are now fighting over whether they actually have. The EU has said it removed the offending subsidies, but in May the WTO ruled that the EU had failed to eliminate them for several Airbus wide-body jet models. The U.S. has threatened retaliatory tariffs.
Later this year, a separate WTO panel will deliver its decision on whether the U.S. has complied with the terms of a 2012 ruling that its tax breaks gave Boeing an unfair advantage.
In other words, the saga continues.
Though the Trump administration has used the WTO to pursue some of its complaints against China, it sees the Airbus-Boeing dispute as demonstrating that the WTO is plodding, ineffective and ultimately broken. Trade hawks in Washington D.C. prefer unilateral tariffs to punish China.
The U.S.-China dispute is expected to be much more complicated than the U.S.-EU battle, given China's governance system, state-directed development model and lack of transparency, said Stephen Olson, research fellow at the Hinrich Foundation and a former U.S trade negotiator.
"Developing clear and enforceable trade rules on what is permitted and not permitted is immensely complicated, as evidenced by the longstanding U.S.-EU dispute over Airbus and Boeing," Olson said. "The issues raised by the Made in China 2025 plan are an order of magnitude more complex."